Alternatively titled: B.A. Johnston's On To Us: A paranoid recollection of the events that lead to this article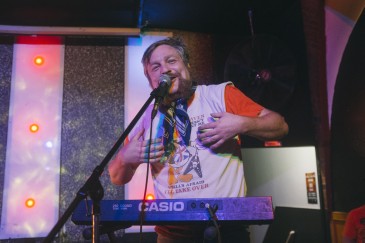 Someone must have tipped B.A. Johnston off at the Astoria on Hastings. It was a dark and rainy Saturday night, and yet hours ahead of schedule Johnston was pacing frantically. We made eye contact several times, both in and around the dimly lit dive bar.
What Johnston and I both knew was that last year, former Discorder editor Jacey Gibb wrote a foreword on the front page which compared B.A. Johnston and the Flaming Lips – writing them both off as gimmicks with undeserved adoration. This may have been the first, and to date only, time that anyone has given Johnston bad press… and someone must have tipped him off, because there he was, searching for any scent of a writer in the audience.
Joel Butler of Nervous Talk fame kicked off the night on a drum and a guitar. "This is a song that B.A. Johnston ripped off," he introduced. Ripping through a quick set that was as much comedy as it was music, Butler had a performance indebted to Johnston. Yet here he was, accusing the man of plagiarism. What did he know?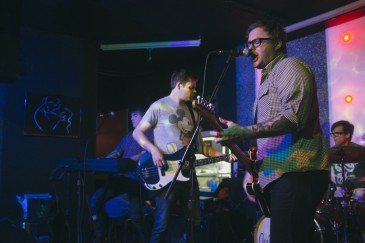 The Uptights were next, and were pushing really hard for a perfect indie pop sound. Though completely endearing to the audience, they went through their entire repertoire without a word of stage banter or introduction. The complexity of their pop melodies were impressive, but I remember trying to ask several people in the audience who was on stage with Jesse Gander, and being told they were "I Don't Know." Obviously, they were a plant.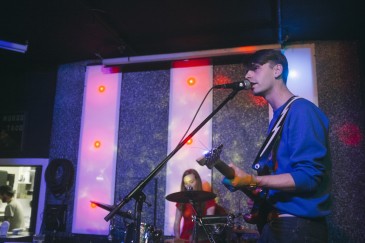 And then immediately after midnight, with Ace Martens wrapping up a set, Johnston was performing. Since I had last seen him an hour ago, he had gained a significant amount of weight. Ja Rule's "Up in Here" began blaring through the Astoria's sound system. "Discorder's going to probably write this up," he immediately accused.
It's now that I noticed Johnston was in disguise, and as he performed was stripping off the accumulated layers of jackets, sweaters, and t-shirts. Eventually he was performing entirely shirtless.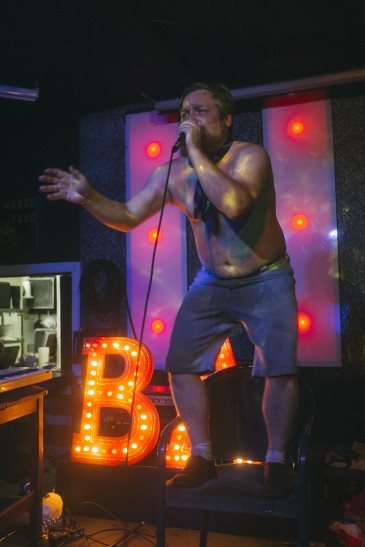 Johnston's first song was a self-proclaimed test of Vancouver's tolerance to bad songs, "I Forget When Trash Day Is." From there, Johnston traded his guitar for a discman which he conspicuously and repeatedly referred to as his iPhone 5C. Johnston then mistook the mp3 recordings of his music as a "jay-pegs," which he loaded occasionally. I could sense that Johnston was uncomfortable revealing too much to this audience.
And then, after searching behind the bar, through the kitchen, and around the tables, Johnston finally found Discorder's representative, me. He stood beside me on a bar stool, singing to a crowd who yelled back with enthusiasm about GST cheques. Johnston even managed to unintentionally embarrass me for taking notes on my 2006 LG flip phone.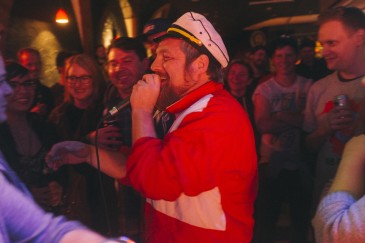 I knew my cover was blown, and signalling to the photography I quickly headed to the relative safety of the washroom. But just as I flushed the urinal, Johnston revealed himself again. This time, he was standing on the sink with a guitar, and the bathroom was quickly crowding full of his fans.
"This is something you weren't expecting," Johnston said. I was expecting to wash my hands.
As his fans clamoured over the urinals to watch, I carefully avoided the walls while slinking back, defeated. Johnston had finally caught me, and there was nothing left to do but listen to his music in a urine stained dive bar's washroom. You got me, B.A. Johnston, but you have to know… you got the wrong man.