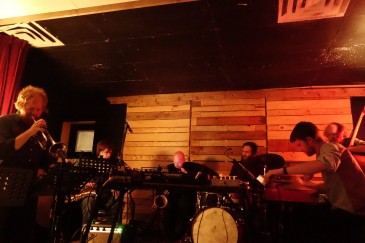 The China Cloud has never looked better than it did at the end of a chaotic—but thoroughly rewarding—Record Store Day in Vancouver. Soaking wet from the persistent rains, the beautiful and charming interior seemed ripped right out of my brightest fantasies.
For those who haven't been, the China Cloud is a Chinatown-located art space and music venue with an exceptionally comfortable atmosphere. Warm lights, raw wood tables and benches, plus a wonderfully rustic-looking bar are only half the equation—the beautiful artwork constantly on display and in rotation inside the quiet hive is always worth paying attention to. With its unassuming entrance-way and generally low-key performances, the Cloud hasn't gotten the exposure it well deserves, but if that means more space on one of the gigantically comfortable couches at the foot of the stage, I'm not complaining.
As an interesting after-party to the Record Store Day festivities, the China Cloud played host to some of the best in experimental (and some outright-weird) musical acts. In celebration of the new album Twin Galaxies by legendary Victoria (now Vancouver) band Dixie's Death Pool, the line-up was an intriguing mix of live music and listening party.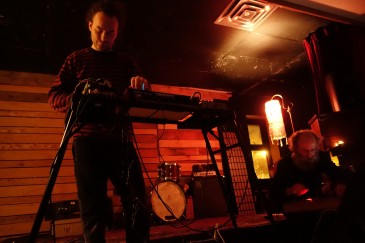 Lee Hutzulak, the sole remaining member of the band, opened the night with Giorgio Magnanensi as Shades Of Scorpius. The duo explored the harsh noise and temperamental nature of analog synths, moving back and forth between syncopated clicks, blips, and long passages of synthetic sizzling. That the two interacted on a musical level was fascinating as each artist was wholly and completely inwardly focused physically, experimenting with each knob and switch as a nuclear physicist might at the helm of a reactor control panel. The tangible concentration behind each beat and buzz lent itself immensely to their performance, although the most interactive part of their set came at the halfway mark as Hutzulak disembarked from the stage with a portable synthesizer, slowly roaming the crowd to create an absolute and true stereo effect between him and his contemporary.
The second portion of the night, enacted after a quick smoke break in the now-dry air, was to be an "ear movie" presentation of Hutzulak's new album, Twin Galaxies, as a listening party intermission between Shades Of Scorpius and Sun Ra Star System, a sort of tribute to the legacy of jazz composer Sun Ra. Although I was particularly excited to hear the seven-man Star System play out the China Cloud—the band shares members with Fond of Tigers, Inhabitants, and a thousand other equally amazing jazz groups—the excitement of Record Store Day and the warm, sleepy interior of the venue proved to be too much for my weary frame. Too much of a good thing really can be too much, sometimes.