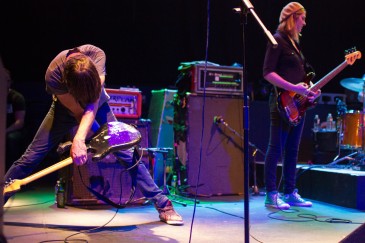 There was no escaping the wistful, rosewater-infused, dewy-eyed saturnalia that a Stephen Malkmus and the Jicks performance can sometimes squeeze from their long-time fans. By no means a nostalgia act, don't get me wrong, but judging by the tattered vintage shirts from Malkmus' former band on display, a very retro mist was tangible in the air.
To that end, Northampton, Massachusetts four-piece Speedy Ortiz ushered in the evening playing '90s-inspired indie rock à la Belly or Veruca Salt—also a little Dinosaur Jr. tossed in for added oomph—with mandatory distortion and caterwauling oceanic guitars. Gauging by the delirious pogoing on the dance floor by the end of their energetic set (as well as a well-received cameo by the Jicks' Mike Clark on cowbell), the revival movement still had plenty of power to barrel it along for some time to come.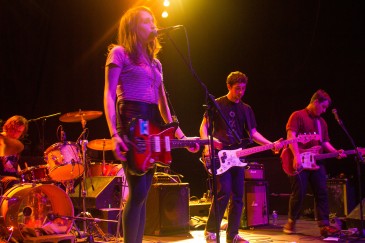 Reiterating Fred Armisen's and Carrie Brownstein's playful assertion that "The dream of the '90s are alive in Portland," the Oregonian entertainers everyone came to see wasted no time taking the stage and diving deep into a set that seemed streamlined for dyed-in-the-wool devotees of Malkmus.
While officially touring in support of their sixth solid Matador release, the cheekily titled Wig Out at Jagbags, Stephen Malkmus and the Jicks have now released more material than Malkmus' other band. (You know, the one from way back that rhymes with payment). I'm happy to report that Messrs. Malkmus and co. were in fine form, luxuriating in their deft technique, their ability to celebrate their multifarious but always rocking sound, and cotton to their fans too, without exception.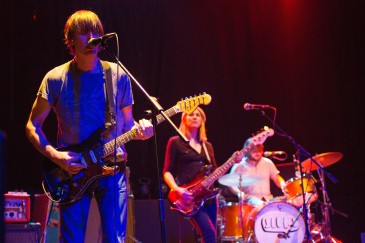 A firm focus on Jagbags finest cuts with songs like "Surreal Teenagers" and "Lariat" were tempered with tracks like "Senator" and "Tigers" from 2011's beautiful Beck-produced LP Mirror Traffic and even long forgotten gems like "Jenny and the Ess-Dog" from Malkmus' self-titled 2001 debut cropped up.
As Malkmus swaggered around the stage, grinning and tossing out the occasional clamorous solo it was impossible not to notice his perpetually ageless appearance. Has Malkmus even aged a day since I first saw him amble up on stage, leading his sly lo-fi California combo Pavement some 20 years ago, and still every bit the indie rock saviour he avowed to be? Hoodwinking aside, truly, what Faustian pact did he sign that not only made him rock 'n' roll's Peter Pan, but saviour as well? Certainly written in blood, this devil deed must also include a clause allowing Malkmus to enjoy a responsive career longevity unheard of by most of his peers. Many musicians would give their eye teeth for the sweep he's taken, but seeing him pose on stage, perspiring, clowning one minute, shredding the next, it's hard not to cheer him on and really mean it.
Bassist Joanna Bolme (formerly of the great Elephant Six band, the Minders, for all you trainspotters out there), a constant in the Jicks line-up, deserves special mention for her inventive rhythmic skills in an excellent interpretation of Nilsson's "Jump Into the Fire" that also showed drummer Jake Morris to have some indomitably deep pockets. Wow.
When Malkmus ripped into "Baby C'mon" it was all but impossible not to sing along and when "Stereo" crept in there everyone in the Rickshaw Theatre lost their shit. The line in that song referencing Geddy Lee segued perfectly into a rousing rendition of Rush's "Fly By Night," touching down amidst a covers-saturated encore set where I admit to having a frenzied fanboy conniption. "Box Elder" and Roxy Music's "Mother of Pearl" sent us all on our way with full hearts and express tenderness. What more can you ask for on a night such as this?