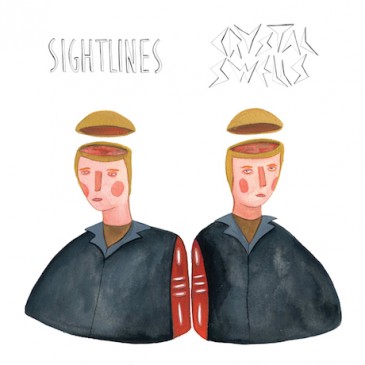 I can think of no two better bands to go in on a split seven-inch than pop-punk trio Sightlines and Maple Ridge's psych-rock outfit Crystal Swells. The pairing have played more than enough shows together to know their respective sounds are complementary, and at the end of the day, what's the point of sitting on a couple of sub-three-minute cutting-room tracks?
Side A of the peach-coloured (but regrettably not peach-flavoured) vinyl belongs to Sightlines and Eric Axen's unique Jawbreaker-esque delivery. The frontman doesn't lean on Kerouac quite as much as Blake Schwarzenbach, but the emphasis on intelligent lyrics is definitely present on opener "Foreknowledge." Fun, scratchy guitar harmonics break up the smart verses on song one, while fuzz-soaked single-coils dominate the one-minute "Commiseration." Sightlines still exude the same summer charm that dominated their last EP—it's not hard at all to imagine soaking up these jams in some ratty venue in the DTES while the sun sets on a messy-hot August day.
The opening to side B, a cacophonic, inebriated noise smash, plainly marks the divide between Sightlines' straightforward punk and Crystal Swells' chaotic and dark psych tracks. Barely distinguishable vocals sit well behind a reverb tank being squarely beaten over the head with a hacksaw, and rough, raw instrumentation takes "Beach Bear" in a twisted, post-hurricane vacation direction. Track two, "The Bear Scare," almost sounds like it was recorded in a bathroom stall—but the over-compressed guitar effects are most definitely intentional. It lends well to Crystal Swells' off-kilter song structure, and as the only instrumental track on the record it stands out for its gratuitous under-production. It's trash, but it's beautiful and, most importantly, a helluva lot of fun.