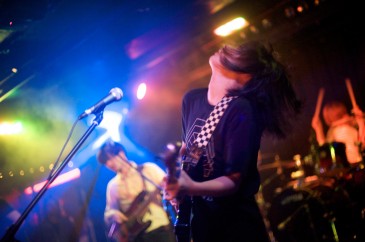 Next Music From Tokyo (NMFT) has, for the last five years, consistently topped my list of favourite musical events in the city. The why isn't so hard to grasp—bringing four or five of the most bizarre and talented bands straight from the Land of the Rising Sun to tour across Canada sounds like a win-win situation no matter how you spin it—but the how is so much more interesting. Since 2009, the tour has been run solely by one Toronto-based anaesthesiologist with a nearly discomforting amount of passion for the Japanese music scene. Steve Tanaka was easy to recognize at NMFT's final tour destination at the Biltmore Cabaret, acting as both MC and translator for the four Japanese and one local band on the bill.
Uchu Conbini, a young three-piece out of Kyoto, opened the night with serious math-pop charm. A combination of impressive technical guitar work and soothing vocal overlays, the trio managed to harness the already-packed room's kinetic energy without so much as a head-bob. While their on-stage presence could only be described as demure, the language barrier didn't stop them from turning the crowd into a seething mass of shouts and applause. Every double-tapping guitar solo netted the band a wave of cheers, and the reserved performers took it all in stride. If any grumblings were to be heard at the back of the room, it would have been that Uchu Conbini veer on the edge of twee, and without a hint of overdrive behind any of the high points in their set it's easy to see how their particular brand of math-rock could be seen as unfashionable to Canadian crowds.
Happy!Mari were a great detour after Uchu Conbini's technically-proficient but reserved set, and a good example of the weirdness that Tanaka brings to the table in his NMFT series. The four-piece band could most closely be compared to early-'90s emo band Cap'n Jazz getting into a drunken boxing match with Deerhoof and losing spectacularly. Frontman Yoshifumi Shinmen's wail took some time to get used to, but it was his maniacal physicality and child-like energy that kept Happy!Mari fresh and interesting. Balancing super-bright guitar chords with alternating piano and synthesizer noises, Happy!Mari were the closest a Japanese band would get that night to being a "rock band," and even if half the crowd were left scratching their heads at the offbeat stylings, the cheers were just as loud for the quirky misfits.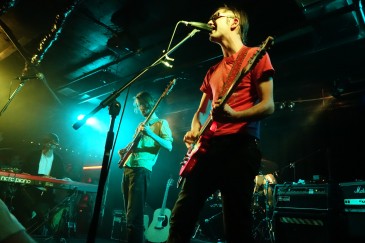 Local weirdos in the psych-pop band Sprïng played an oddly-bookended third spot on the bill of five. The group, an evolution of post-hardcore noise band SSRIs, had plenty of energy and a bouquet of great songs off their new record, Celebrations, to play a pitch-perfect set, but their time-slot was so weirdly placed after two intensely foreign performances that much of the crowd found it hard to play along.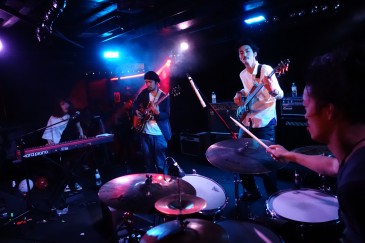 Jizue were another Japanese band that might have thrown off a lot of the rock enthusiasts in the Biltmore. To describe them as a jazz band would be a misnomer—but so would almost any other genre description. Instead, the four members behind this dynamic and intensely talented soccer-loving group blended free jazz with the song structures of post-and math-rock; they share more than a passing resemblance to last year's NMFT headliners Mouse On The Keys. What really sets apart Jizue from their contemporaries is a strong Latin influence, characterized by salsa guitar noodling and an electric piano whose keys never stopped playing for long. It doesn't sound like a winning combination when written down, but Jizue's strangely hypnotic rhythms kept the entire venue on its toes and crushed towards the stage for the duration of their frenetic set.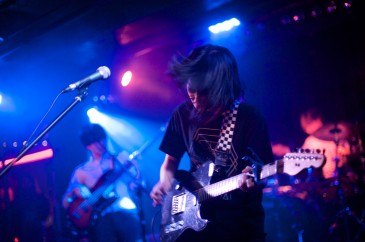 It would be a hard thing for any band to come after Jizue's powerhouse piece, but headliners Kinoko Teikoku took a particularly long time warming to the crowd, and vice versa. Their radical and completely mesmerizing performance at last year's NMFT borrowed much from American post-rock staple Explosions In The Sky—plenty of pretty guitar lines leading into intensely noisy shoegaze breakdowns overtop of lush female vocals. This year, their energy was focussed on a different direction and, while not altogether a bad one, the more intimate performance felt like a jitter after Jizue's monstrous passion. Erring more towards My Bloody Valentine than Mogwai this time around, Kinoko Teikoku kept the crowd baited with eerie guitar weirdness and ethereal vocals before crashing, eventually, into walls of white noise and furious overdrive. Guitarist A-Chan was particularly fascinating to watch, as her demeanour was anything but sullen. Taking obvious pleasure in playing for a North American crowd, their set ended joyously when she took off stage-diving into the crowd and pumping her fists furiously in the air.