Sun Araw's night kicking off the Waldorf's 3D Fest had somewhat of an air of a psychedelic vaudeville show. The curtains of the cabaret drew back and forth revealing locals Evy Jane followed by different arrangements of the eclectic band's members and friends for each set, and ultimately getting together at the end of the night as a full band for a deep cosmic jam.
I came just in time to catch the last bit of the soulful duo Evy Jane playing to a handful of people glued around the walls of the cabaret. With a sound drawing from UK bass and deep R&B in the vein of James Blake, I would never have guessed them to be from Vancouver. Closing slow and deep with their single "Sayso," the two shuffled between an array of laptops, synths, controllers and an electric guitar, as Evelyn Mason's ghostly and slightly raspy vocals swelled through the empty floor.

Luckily, the audience warmed up enough to stand a scorching five meters from the stage by the time M. Geddes Gengras began programming his powerhouse suitcase-sized modular synth. Tweaking and twiddling away with the calm aplomb of a professional scientist, the LA native improvised slowly unfolding sonic environments, travelling through dense valleys of drone to dreamy clouds of arpeggios, and back.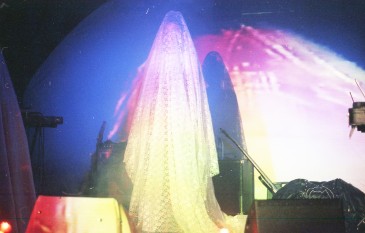 Filling the void of synthesizer drone, the curtain revealed Diva Dompe in a glittery outfit that could have been lifted from a USSR figure skater. Equipped with a wireless microphone, at least four different veils, and an electric fan for faux wind, her performance had, by far, the highest production value of the night. The eye-candy fit well with her paradisiac avant-pop, creating an overall effect comparable to a female John Maus born in a thrift store.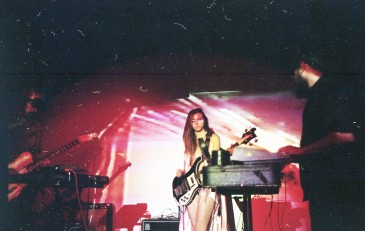 The cabaret turned into a bass-ridden dancefloor with Matthewdavid's heated set, manipulating a laptop and MIDI pad to produce a flowing mix of chopped up beats and R&B samples that were irresistibly dancy, despite his intermittent self-deprecating asides about his "stupid beats."
After the variety of performances that gave a peek into the quirkiest sides of Sun Araw's guests, the last set saw them reunited on stage again for a timeless flow of subaqueous dub. A Jamaican hat-wearing Cameron Stallones, the brains behind the eclectic band, contributed his echo-drenched vocals and guitar as they floated over rippling waves of looped synthesizers, delayed drum machines and other sounds of questionable origin.
It was a relief to see this weeknight audience that was shy to warm up finally hypnotized by the hazy layers of sound that the cosmic philosopher Sun Ra himself would have approved of.