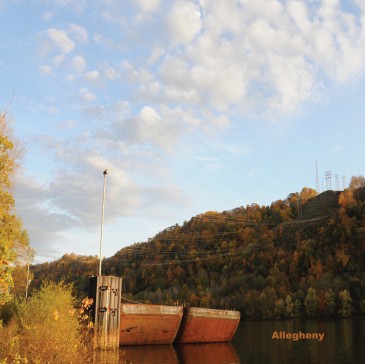 "And when he looks down, a sparrow is nesting as if in the crook of a tree…Its high, sweet trilling goes out among the sleeping passengers, drawing each breath into its praise. My father knows he is as much this song as anything else in his life." So begins Rodney DeCroo's dreamlike journey into the spoken word genre, surely one of the more challenging styles of music for a wide audience to appreciate. DeCroo however, a prolific Vancouver-based musician and writer, foregoes any doubt and throws himself into the abyss, notebook in hand.
Allegheny, his sixth album, and first foray into the realm of spoken word, recounts a deeply existential and personal path through DeCroo's grey and green-toned youth, which he spent growing up in rural Pennsylvania along the apparently putrid cavity of the Allegheny River.

Blended with deeply brooding music produced by Robert Malowany, the album is somehow sparse and bleak, yet rich and warm. DeCroo's eloquent but stark prose is lyrical, and serves as the linchpin that holds the whole escapade together, flowing in angular but lucid passages and backed by the constant ominous pounding of synths, guitars and distorted horns.
Allegheny's drama unfolds in scenes set under overcast skies and within the murky flow of the river itself, as DeCroo manipulates the mood with his haunting narrative, expounding events occurring either in the past or as imagined outcomes. The sentiments are frequently dark, but quickly become touching near the end of the album, at the drop of a mayonnaise jar filled with fireflies on "The Lightning Catcher," simultaneously releasing much of the steadily building tension.
The even, nasal timbre of DeCroo's voice complements the moods of the album beautifully, and the instruments twist around his gnarled landscapes as he presents a bleak vision of his past that serves as, "An uneasy reminder of the river's phlegmy, dark green clutch."
Allegheny is a gorgeously lush and intensely captivating piece of work.