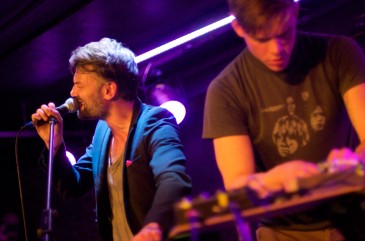 It was an unfortunately rainy and miserable night when Brooklyn's Porcelain Raft rolled into town for a spot at the Electric Owl. Perhaps that was the reason the club was slightly lacking in attendees. Or perhaps it's that Porcelain Raft's ambient, synth-driven full-length debut hasn't hit the masses — yet.
Mauro Remiddi, the sole musician and songwriter of the "group," assembled Strange Weekend over a few months in his basement and has since been touring with the likes of M83 and Youth Lagoon to support it. Now embarking on his first headlining spot, he brought along Vancouver locals In Medias Res to brighten the dreary eve.

In Medias Res, which usually perform as a quartet, was down to a one-man show, of Andrew Lee (vocals/guitar). He played a mellow, expectantly stripped-down set, starting by wailing out heavily reverberated vocals over an equally echoing pedal steel guitar. Switching over to an electric guitar, he played a number of bass pedals with his feet on top of pulsing beats, managing to handle things more than reasonably as a solo act.
Porcelain Raft was up next and fired right into Strange Weekend opener "Drifting In And Out". Remiddi took care of most instruments including guitar, effects pedals and keyboards, and to the crowd's good fortune brought along a live drummer, giving the atmospheric dream pop of his album a formidable punch.
The venue filled up considerably at this point and even though it was still nowhere close to capacity, the eyes of all attending were glued to the stage. The captivating duo ran through a large chunk of Strange Weekend with tracks like the acoustic, Brit-poppy "Shapeless & Gone," the moody and melancholic "Is It Too Deep For You?" and also dipped into older tracks like "Talk to Me" from their Gone Blind EP.
They did, however encounter some technical difficulties, which Remiddi attributed to "using gear from the '70s." Thankfully sorted it out to wrap up the set with the ludicrously catchy "Unless You Speak From Your Heart" which took on a slightly faster pace and heavier thump in the live setting.
The pair exited the stage briefly before returning for a two song encore and then said goodnight. It was a solid performance and I have a distinct feeling that if or when he returns it will be to more pairs of eagerly awaiting ears and not likely in such an intimate setting.