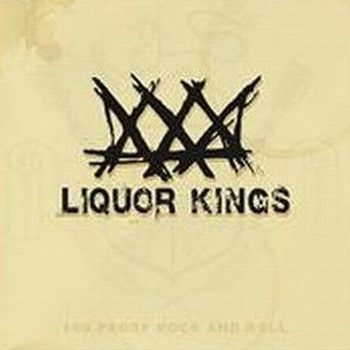 Here is solid proof that you're never too old to rock. All it takes is guts, passion and unwillingness to give up on the good life. Mix that with some well-utilized dirty chords and a beat, and you have yourself a heck of a rock album. 100 Proof Rock and Roll sounds like a true labour of love, and the Liquor Kings aren't ones to hold back. From start to finish it's a whisky-soaked romp with no day-after regrets.

Eddy Dutchman leads this pack of seasoned toughs with a voice that comes on like a blues-and-booze-fueled fireball. He's enabled on either side by guitars that sound like revved up hot rod engines and backup vocals that stand nose to nose with any young ham-and-egger from today's generation. Drummer Terry Russell is an impressive timekeeper and pulls out some nasty tricks behind the kit without being a showboat while bassist Ed Hurrell keeps it greasy and smooth.
"Give the Devil His Due" and "A Day Late and a Dollar Short," are wild tunes, vaguely reminiscent of Danzig, that got me stomping while "Kicking the Shit Outta Love" brought a smile to my face.
100 Proof is a rowdy blues-infused rock and roll record that will make you want to throw down your fists and get your skank on. Even if Liquor Kings were to remain a bar band for the long haul, they'd be the baddest damned bar band this side of the border.