If the temperature drop got to you last Friday night, you'd have been wise to go to a warm and crowded Biltmore as Baptists and Ladyhawk proved themselves as a couple of Vancouver's finest. The sold out show was abuzz on booze and the anticipation for these bands was hardly dismissable.
It was an odd pairing having Ladyhawk and Baptists playing back to back, Baptists a pummeling metal band and Ladyhawk an emotive, guitar-driven, bar-rock band. But they do share a member in Sean Hawryluk (bass) who did a fine job of pulling double duty, and on his birthday, no less. And really, the pairing was not head scratchingly odd. I'd rather pay closer attention to a couple of really good bands than slog through the usual assortment of sometimes predictable indie-rock openers of varying quality.

Baptists hit the stage at a little after 11 p.m. and there was no dicking around with this beast. Bludgeoning and brutal, they attacked their set and crushed the gentle hopes and dreams of anyone naïve enough to get in their way, although I'm pretty certain that anyone in their way was quite happy to be there. I'd heard that Andrew Drury (vocals) can be a bit rough and unpredictable and was admittedly hoping for a few toppled bar stools and perhaps some bloodshed, but it wasn't to be. Still, he prowled the stage like a rabid animal, attacking tunes like "Good Parenting" and "Bachelor Degree Burn," laying into his mic like a man with a taste for revenge. They were huge and impressive and although vastly different from Ladyhawk's kinder, gentler approach, it was an awesome opening that got the crowd well-heated and ready for more.
It's been a few years since Ladyhawk recorded new material, and it may as well have been just as long since they played a local show; the place was packed by the time they hit the stage. The band had a bit of ring rust and took a couple of songs to really warm up, but once they did there was no stopping them. Playing a handful of songs from Shots was a happy medium for some, but it was the material from their 2006 self-titled debut and the following year's Fight for Anarchy EP that really won the crowd over. And the band was quite happy to oblige.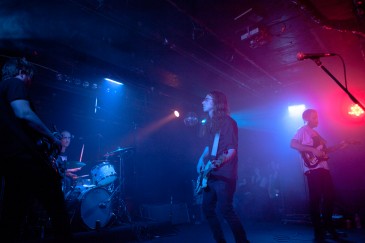 With a grin that rarely quit, Duffy Driediger (vocals / guitar) seemed rather amused by the spectacle of an audience hell bent on crowd surfing, beer-tossing and hundreds-strong sing-alongs. Fueled by this response, Ladyhawk soared, layering chest-resonating guitar tones over each other and growing stronger as their set wore on. Tight and fresh with some new material on the way, Ladyhawk looked and sounded like a band ready to retake the town. With a full house chanting "One more song!" at the end of the night, there's no doubt that they've been missed.