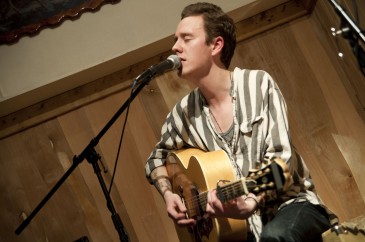 As I walked into what I imagine Neil Young's living room would look like, I arrived at the River Vintage shop on a rainy Thursday evening. Housing a calm folk/country urgency, the western textures and plaid coat-patterned walls set a defining atmosphere for the evening's acts.

Shaunn Watt (Red Cedar singer/bassist) was the first to set the audience under a sad spell. With well commanded vocals, Watt's high falsetto empowered his painful lyrics. The lament in his first song, "In the light of the morning / I knew I would sacrifice you," presented a grand honesty, owing much to the tenets of country/folk tradition.
Conscious of this sorrowful tone and after playing a Red Cedar cover, Watt declared to the audience that he was going to try to make his set more "upbeat." A girl sitting near me responded with a rejecting, "No," and I couldn't help but agree. Thankfully, the songs that followed, "Every Golden Age" and a Joanna Newsom cover of "Does Not Suffice," continued the pleasant, down-beat trend; heartbreaking like the vocal styling of Leonard Cohen and comforting in the universality of that heartbreak.
The voice of Lindsey Hampton (performing under the moniker Waters) filled the room next, reminding me immediately of the hollow cries woven into Bruce Springsteen's acoustic album Nebraska. Transitioning from that sound, Hampton and her accompanying guitarist Andrew Lee created a soundscape of thick reverb similar to the electro-acoustic sound of Portland's Grouper. The consistent tempo and angelic vocal layering in Waters' songs allowed them to roll forward as if fixed to a track. Despite a distinct similarity amongst all five songs, Waters demonstrated an appreciated ability to create both beautiful and menacing tones, giving her music the most powerful of ambient appeals.
Lastly, appearing before the audience with a classical guitar in hand, Khingfisher (Hallow Moon singer/guitarist Craig Alan Mechler) began his set singing, "Come to me my ocean breeze," in a sandy, personable voice. Pursuing a similar thematic conviction, he then performed another six songs, exerting a folk authenticity confirmed most symbolically by the twine string holding his guitar to its strap. As the audience listened intently to the poetry in his second song, "Good bye my love, hello sweet lonesome harmony," even the loveliness of his lyrics could not prepare me for what was next.
Attaching words to Villa Lobos' "Scottish Choro," Khingfisher sang his third song, "Speakin' Easy (Prohibition Blues)." Like a melody floating out of a Parisian cafe, Craig's lyrics paired with Lobos' melody, gave this song all the charm of a classic 1920s blues tune. His gentle proceedings concluded with a cover of "Georgia on My Mind" and a few of his own pieces like "Deep Blue Sailing Wind." After an urged encore, the audience, some sitting cross-legged in front of the stage, some standing framed by the merchandise, clapped and seemed pleased with the night's events. Truth is, sometimes songs about liquor and heartbreak are just what you need to hear.