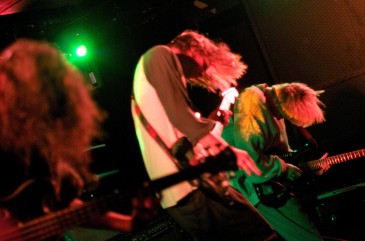 DIVE has made quite a reputation for itself in the internet sphere lately, as the Brooklyn-based four-piece includes a member from Captured Track's Beach Fossils. Picking up a lot of blog hype in the past few months, DIVE started the set a bit shaky at the Biltmore Cabaret Tuesday night, but quickly spun the night into a solid set with energy spewing out of their fingers.
Singer Zachary Cole Smith, with his short blonde almost pagan hair, sported an extremely cozy, loose sweater as he took the stage. Liquid tones and streaming guitar lines from Andrew Bailey met the solid bass lines of Devin Ruben Perez. Space-tones laced the set intensifying the energy through the night.

"Bambi Slaughter" evolved into a steady highway song, morphing into an atmospheric and interplay of dark rhythms and force. DIVE mixed tension and sprawling guitars into a powerful centre driven by the drums from Colby Hewitt (formerly of the Smith Westerns). As the band continued to thrash and jive on stage later into the night, their set dug deeper. Eventually they gelled and came together from earlier stumbles. "How Long Have You Known," felt out of time, yet Smith's vocals were intensified and brought the group back together. "Human" nailed their expansive sound. The brass quality of the guitars spun together, anchored in Smith's voice.
DIVE creates a very cohesive sound, as the wooden-paneled floor of the Biltmore became a place to brace the reverb of their sound. Overall, their set created a sense of sweet nothingness, blurring into the surroundings. Without a doubt, DIVE is sure to be a summer soundtrack, with their glistening sounds melting perfectly in the sun.
"What day of the week is it? That's pretty good for a Tuesday!" Frankie Rose said with an almost southern charm to the shockingly sparse crowd that night. "I'm drinking a beer-mosa. Do you know what that is?"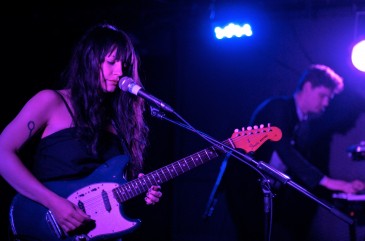 Over the past few years, Frankie Rose has been a part of a handful of groups including Vivian Girls, Dum Dum Girls and Frankie Rose & The Outs. She's recently parted ways with "the Outs" and as her latest album Interstellar shows, it's a breakthrough. The set kicked off with "Candy," an older track that immediately showed how much her music has evolved. It's a song that captured that steady, rough-edged girl group of her work under the moniker of Frankie Rose & The Outs. Interstellar turned the dial and it was dazzling.
Roses' features were animated under the rich tones of her voice. With long wavy brown hair, dressed in metallic black leggings, Rose harnessed a gorgeous blend of sounds that mixed synths, vocals and tribal drums. The crowd watched lovingly, immersed in her entrancing cathedral-like sounds. "Gospel/Grace" faded in and out with the layered harmonies. "Night Swim" added punch and fervour. "Are you ready for a romantic song?" Frankie asked the crowd, and then proceeded to sing "Pair of Wings." It was insanely beautiful, especially when the harmonies came in. There were moments when you felt like you were on a red-eye flight looking over the sparkling lights of the city below.
Rose has upped the ante and it's a knockout. She mixed all the right moments and created something pretty exciting; her next undertakings should not be missed.