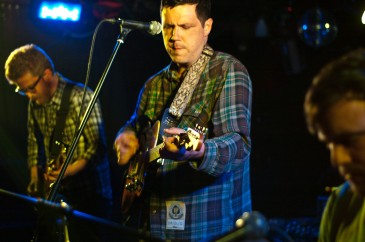 It was a day of blue sky, budding leaves and bright sun soon to button down with bleeding hearts at the Biltmore Cabaret. As Townes Van Zandt's "Waiting Around to Die" played dirge-like over the speakers, the curtains pulled back from the stylish stage to reveal Peter Wolf Crier, a go-getting two-piece from Minneapolis.
Hyping their recent sophomore Jagjaguar release, Garden of Arms, Peter Pisano (guitar, vocals) and Brian Moen (drums) caused quite a ruckus for two rather unassuming dudes. With flair and brio abounding, the boys quickly won over the crowd, their pluck and performance quite infectious.

As Moen playfully pounded out his affections on the drums and Pisano, like his namesake suggests, cried out his predilection, there was a wistful, earnest and totally cathartic batch of tunes. Fans of John Vanderslice and Pedro the Lion take note; these lads have a similar indie aesthetic that's as perceptive as it is wry, rockin' and fast paced.
There was a quick turnover before the headliners took the stage, where it was hard not to notice the excited rabble sporting a wealth of beards and plaid. Fitting, as Seattle-based Damien Jurado and his first-rate band stormed the stage. His five-piece assembled, the beard/no-beard ratio on the stage was four to one. But whisker worries soon fell by the wayside as Jurado's intense brand of urban folk mesmerized the room on a dime.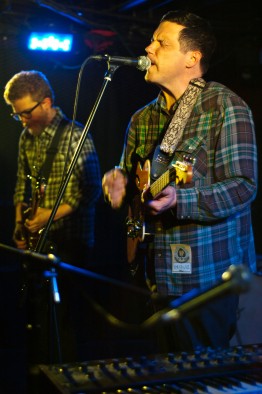 Visiting tracks across his impressive catalogue of a dozen or so releases, with a particular focus on his excellent new Maraqopa LP, Jurado surrendered his gentle gifts with balance and dedication. "Everyone a Star" reached pastoral peaks, summoning a Paul Simon sparkle, followed by "Working Titles" where choral arrangements and haunting harmonies played with religious severity.
At one point, during a trembling rendition of "Sheets," Jurado twisted on the floor, howling with ecclesiastical, revival-like intensity that was like some kind of sorcery. Jurado gave a great show, one that both his bearded brethren and fledgling fans could completely cherish.