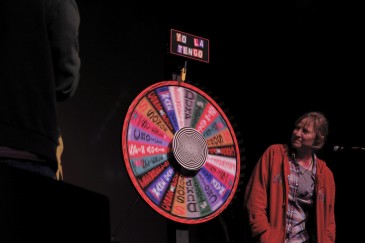 You never know what to expect at a Yo La Tengo show. With no given explanation, the long-running outfit took the stage at the beginning of the night to inform us that they would not only be the headliners, but also – drum roll please – the opening act! Employing a novel "spin the wheel to decide what we play" gimmick, they invited a fan on stage to spin the circle. Some possibilities included, among others, a set from bassist James McNew's Dump solo project and songs that begin with the letter "S." One option would have found Yo La Tengo acting out an entire episode from a TV sitcom; That was the one I was hoping for. The tiny arms of the guest spinner, however, spun the wheel onto the group's lengthy, instrumental film score, The Sounds of the Sounds of Science.
The surprising opening set suggested– in the best possible way– what it must sound like when instruments are struggling with cognitive dissonance. Melodic arrangements met with abrupt drum crashes as Ira Kaplan's guitar was brought to life via his cornucopia of effects pedals. Unfortunately, it was obvious that Yo La Tengo was losing their audience. The Sounds of the Sounds of Science was meant to be heard while viewing high definition shots of jellyfish and seahorses– the album was made to score filmmaker Jean Painlevé's underwater documentaries. Although not entirely engaged, the audience was still appreciative, applauding whenever a soundscape ended. Afterwards Kaplan thanked the audience. "We're going to pick it up a notch and then take a break", Kaplan said, and like a sun brightly shining in the break of an overcast sky, he, along with McNew and drummer/co-founder Georgia Hubley, broke into some inspired blues.
After a short break, the group once again took the stage, but this time with some bounce in their step. First they performed songs from their Condo Fucks project, as well a few selections from the critically acclaimed Popular Songs. Then the band struck into some fan favourites. Kaplan's voice on "Autumn Sweater" was as pristine as it was when it popped up twelve years ago, while Hubley's percussion work on the number was as heavy and lucid as ever. Yo La Tengo later ended their set with a praiseworthy rendition of Daniel Johnston's "Speeding Motorcycle."
In a nutshell, Yo La Tengo are a multifaceted musical powerhouse. They are experts at cover songs, experimental musicanship, and, quite frankly, whatever else they attempt. Their diverse back catalogue makes it possible for anyone to enjoy their music and it was an absolute privilege to see these experts at work.