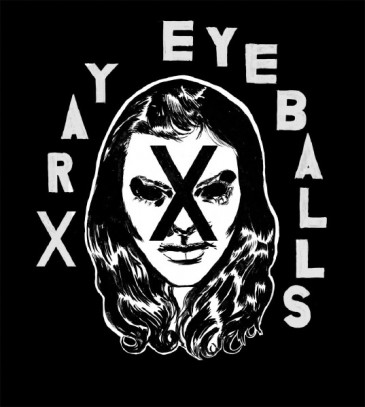 Right from the kickoff cut, "Crystal"—a dirty dance floor dirge about drug addiction and lost love—it's easy to see where Brooklyn's Xray Eyeballs take their cues. Their over-modulated whirr whispers affection to The Jesus and Mary Chain, synths creep in à la Suicide, and their garage-y fizzle points towards the Velvet Underground. Though wet behind the ears, the Eyeballs show a lot of flair and feeling.
Not Nothing is their debut LP, though frontman OJ San Felipe has been cutting his teeth for a while now with his other band, the energetic garage revivalists Golden Triangle. Xray Eyeballs are darker than that act, but still know the ins and outs of playful power pop—take the synth drenched track "Drums Not Dead" as ans example. It injects playful boy/girl vocals that go from sweet to creep.
Distinct themes that the group embraces on nearly every track include a devotion to drugs, death and ennui. On "Egyptian Magician," Felipe shadily suggests a youthful Lou Reed, especially when he repeatedly purrs, "Let's all get high." Combined with the occult imagery in the lyrics and the garage aesthetic, the track could easily accompany the art house films of Kenneth Anger and do them considerable justice.
Several tracks on the album jump out; "Broken Beds" is strange and spacey while "Xray Eyeballs Theme" is about as playful as a suicide diatribe can be. There's a kitsch quality to these songs, many of which are criminally catchy. The Wall of Sound-saluting "Big Toe" would make Phil Spector proud, joyously calling to mind the intro to the Ronette's "Be My Baby." Only thing is, this baby has teeth that bite.
The Eyeballs are flirting with other people's sounds and not so much settling in to their own, and that may be a problem for some listeners. But the fun that they're obviously having, coupled with their rock star posturing, implies that they're content to fake it till they make it. And make it they most likely will. With Not Nothing, it's fair to say that Xray Eyeballs are on to something, and their dark future looks positively phosphorescent.