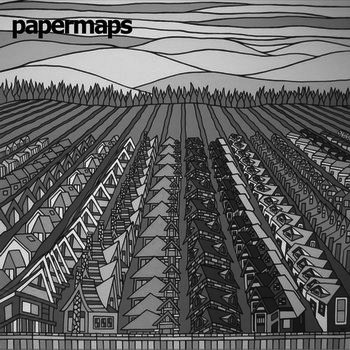 The clanging alt-rock of Papermaps' self-titled debut goes down as easy as a cold pint at the pub, which is probably where it would sound best. This album, with its shout-along choruses and tightly distorted hooks, is meant to be played loudly.
While this the first proper album from Toronto's Papermaps, the band has been around since 2004. Up until October 2010, they were known as Ex~Po. With the new name came a newer sound; Papermaps is slightly more refined and accessible (both musically and by search engines). Most songs have clean verses that transition well into heavier choruses. Lead vocalist Dean Marino's moans and yelps tends to grow on you as the album progresses, and his guitar work complements his tone and pacing. Papermaps' finest moments are when the guitar shimmers over a steady rhythm. The band has also mastered staccato bursts, punctuating most of it's songs with them.
Marino also recorded the album in his studio and produced it, but perhaps they could have used a bit more input from a separate producer. The album's main shortcoming is that good musical ideas such as tight bursts, a push-pull rhythm or a neat phrase, tend to be over-used; they become less interesting with each repetition. Fortunately, there are a few stand-out tracks that show the band's potential. Lead single "Reunion" has all the band's tricks done well and it builds to a convincing climax. "Complicate Things" is, ironically, the simplest song on the album, and Marino sounds his most sincere on the chorus when he sings "guitar is all right / but you can't make a living."
The album's shining moments could convince the listener that this band could go big—or, at least big enough to make a decent living. Hopefully they do. But if they don't, this album would still go great with a cold beverage.