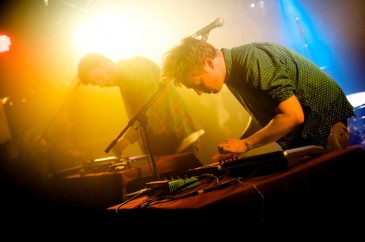 Vancouver's No Gold started the night with their effects-board-heavy, dubby sound. The delay effect must have been on the whole time, even between songs, creating a psychedelic aura on stage. Unfortunately, the vocals were weak and it was obvious that the songs were written beyond their abilities. Nevertheless, the trio's six-song set managed to leave the crowd in an upbeat mood through flickering basslines and sparse, yet rhythmic drumbeats.
Babe Rainbow, aka local laptop musician Cameron Reed, was up next and changed the mood entirely. Dank and heavy drumbeats lurked around dark and sinister melodies that blew by in violent streams of distorted notes. Just when it seemed things couldn't get any stranger, vocals would unexpectedly emerge in the heavy arrangements as though they were struggling to be heard from underneath the muddied music. For all I know, he may have been playing the soundtrack to an android séance; the synths were straight out of Blade Runner. Towards the end of his set, it seemed Babe Rainbow was channeling an awakened robotic soul, expressing itself with nothing more than grand sweeps of synthesized harmonies.
An enthusiastic crowd welcomed headliners Mount Kimbie to the stage. The London-based duo showed great chemistry, proving the crowd weren't the only ones dancing as they moved to their sample-based melodies. Though they generally performed using mixing boards hooked up to their laptops, Kai Campos and Dom Maker would occasionally step aside to play a guitar or percussion, adding an organic element to their set. Though they played tracks like "Sketch on Glass", from the EP of the same name, and "Taps," off their Maybes EP, the standout was the droned-out, hypnotizing "Before I Move Off." Oddly, the audience stopped dancing, as though to fully take in the intricate touches and electronic tweaks the duo added to the tune.
After performing their hour long set, the pair left the audience thirsty for more. As they left the stage, people were yelling for upwards of "a hundred more songs!" For headliners, Mount Kimbie's set was criminally short, for it felt like this was just a tease of what they were really capable of.