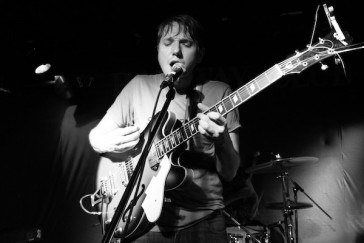 Saturday's show at the Railway Club followed the perfect arc, from unassuming crooners to charismatic quirksters. I ducked into the bar to hear Chris-a-riffic banging out piano chords both sparse and raucous. An intense troubadour, Chris-a-riffic throws more of his energy into the crowd than a pastor doing a sermon, infecting the audience with shifts in melody and rhythm and grand gestures. His simple and repetitive lyrics pique curiosity and force attention, the same way Jonathan Richman and Daniel Johnston's did before him.
Tariq Hussain followed, with Jody Glenham and Colin Cowan backing him on keys and stand-up bass, respectively. Hussain's alt-country songs improve with age, with melodies that turn into comfort food for the ears after a few listens. Unfortunately, his well crafted tunes were eroded by a sea of chatter. Despite the warmth of the music, the group lacked the fullness of sound to swell over the crowd and the momentum to tease back people's attention.
The only out-of-towners on the bill, Boats, struck me with the sound of Winnipeg similar to the punk-edged indie rock spread of Propagandhi, the Paperbacks and the Bonaduces. This band, however, adds quirk to the mix via the vocal stylings of Mat Klachefsky, a quiet, gentle man who sings as if he inhaled a pre-game cannister of helium. Oddly disturbing and delightful, Boats rocked out a set of solid pop songs. Playful lyrics and gang vocals were matched with ragged brass and the metallic ting of a glockenspiel. Boats played an infectious set, inspiring dancing in both business men and young women and head bopping among the rest of the crowd.
To cap off the night, newly local outfit Hot Panda delivered their usual high-energy set of gritty rock, which was perfect for the rowdies.