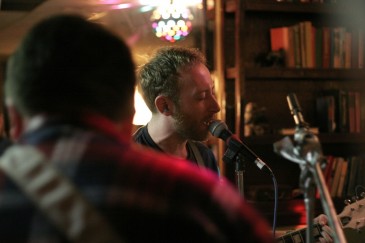 This was the first time many in attendance had been to Lanalou's. Even Apollo Ghosts/Master Chef member Adrian Teacher mistakenly called it Hoko's. The former sushi and karaoke bar has now become a gastropub filled with antiques and an old-timey feel. The yam and potato poutine looked delicious, but the drinks were a bit more expensive. The staff were young hipsters instead of a friendly family. While the changes can be described as mildly disheartening, at least they still have bands. The stage and sound system got some good use as six musical groups took to the stage throughout the night.
Master Chef, a side project made up of Adrian Teacher from Apollo Ghosts and Alex Zhang Hungtai from Dirty Beaches, opened. The duo played a set of jammy, melodic post-rock, which sounded nothing like their other projects. Though primarily played on two guitars, Teacher moved to the drum set for their last song, giving the closer a bit more oomph. Though it showcased their improvisational skills, it didn't really set the emotional mood that the rest of the bands would carry for the night. It might, however, be something one would enjoy more in a recorded format.
The scruffy looking Indian Wars were on second and put on the best performance of the night, effortlessly delivering a set of surfy garage rock with hints of psych. Lead singer Frase With's nasal vocals were layered atop feedback and distortion as the band gave the audience a relaxed, well-practiced set that was loose in just the right sort of way.
This was followed by Korean Gut, led by Jarrett Evan Samson, who also runs Geographing Records. The band filled in for Watermelon, who had cancelled from the show last minute. Korean Gut was a four-piece heavy on the reverb and '90s revivalism, and played well in what would be the first of Samson's four trips to the stage. Role Mach brought Samson back to stage, handling bass duties in Patrick Geraghty's large ensemble of musicians playing manic, high energy songs. Geraghty was in good spirits as he jovially led his band of young veteran musicians (which, in full disclosure, contained my roommate on saxophone) through their live set. They played songs both old and new before closing with the crowd pleasing "All Roads Lead Into the Jungle," whose frenetic crescendo had the entire room screaming along.
Apollo Ghosts had originally been scheduled to play, but cancelled pre-show in favour of presenting an unnamed party band. To everyone's surprise, they still went up on stage to play four brand new songs. Samson returned to the stage a third time as their new bass player. The new songs were all good, but their closer had everyone enraptured as it showcased pop writing at it's finest.
The aforementioned party band was a Guided By Voices cover act consisting of Teacher, Geraghty, Fine Mist's Jay Arner and Gord McCullough. After calling Samson back to the stage one more time, they let him know that this was a late birthday present and they'd only be playing Guided By Voices songs for him to sing. Not being a fan, I was underwhelmed, but Samson was delighted. So were the people in the audience who knew the indie band's back catalogue.
The night was a well balanced event with lots of little sets to keep everyone entertained, but nothing so long as to bore. Lanalou's looks like it will be carrying on the Hoko's legacy for the foreseeable future.