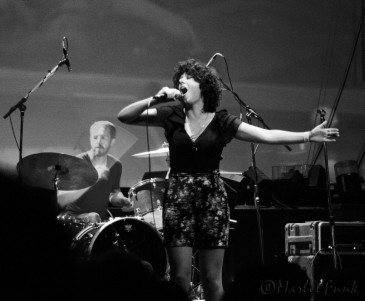 This was a hard review to write. Most of you will know by now that Devon Clifford, drummer of You Say Party! We Say Die! collapsed on stage during their performance at the Rickshaw and subsequently passed away. One of the most talented and hard working bands to ever come out of the Lower Mainland had just come home after an extensive North American tour. And those of us at the Rickshaw were glad to have them back.
Against the back drop of an old Twin Peaks episode YSP!WSD! played songs off their latest album XXXX. Vocalist Becky Ninkovic was charismatic as always. She didn't miss a note and at various times expressed her delight at being home. Guitarist Derek Adam struck power chord after power chord. Bassist Stephen O'Shea cut a striking figure on stage, lost in each song. Krista Loewen provided the atmosphere that comes with every YSP!WSD! song. And Clifford belted the hell out of his drum kit.
There was a lot of confusion after they finished "She's Spoken For." It quickly became apparent that Clifford was in distress. All we could do was watch in stunned silence as a stream of paramedics came to his aid. The Rickshaw staff eventually moved the audience out onto Hastings where we stood like lost children, wondering what to do next.
This isn't supposed to happen to young people. This isn't supposed to happen to viciously talented people on the verge of brilliance. This isn't supposed to happen to a band that had already worked through so many problems and come out on the other side. Too sad for words.