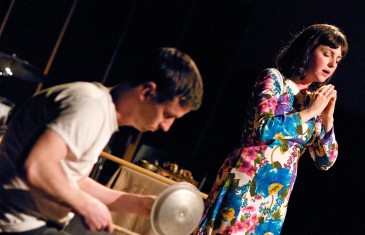 I was sitting in a dimly lit, crowded room upstairs at the Western Front. A guy (Jeffery Allport, I would later learn) walked up to the front of the stage area and set down a floor tom and a snare drum. He sprinkled some salt on each drum and hung a satchel full of violin bows and rubber balls off the floor tom. Across from him was Robert Pederson, laying out an array of broken-looking tape recorders on a low box. Between them was Lief Hall, looking shy in a long floral dress.
The trio, Glaciers, proceeded to produce some of the most unearthly noise I'd ever heard. Hall let out a long, hoarse sounding, high-pitched shriek. Allport made his drums moan and howl, bowing the skins with the rubber balls and bowing a pair of cymbals with violin bows. Pederson tinkered with the collection of tape recorders, holding an old magnetic pickup over a tiny speaker and pressing his fingers onto the exposed circuit board of another tape recorder. Industrial tape noise, high-pitched modulated circuit feedback, the moaning drone of the drums, and the banshee vocals combined into a frightening, strange noise exploration.
Preceding this performance was one by free jazz ensemble, Archipelago, who did a live score to some of the work of Czech surrealist Jan Švankmajer. The Švankmajer short films that were chosen ranged from animated mixed media to claymation and stop-motion. They were perplexing, outlandish and amusing. In one, various clay body parts crawled into a miniature room, joining together in grotesque ways until a clay man was formed, hunched over and squashed into the tiny space.
The band matched the tone and action of the films, creating a perfect atmosphere full of strange noises. Thumb pianos, cello and violin, all sounding chaotic, eerie and noisy, nothing like what you'd expect, made for a very immersive experience.
Before this was the bass clarinet and prepared piano duo of Rachel Wadham & Shane Krause. Wadham stood, reaching into the piano and sounding it with her hands or a feather duster, rubbing chopsticks stuck between the strings, causing them to vibrate, while the clarinettist blew hoarse, harsh harmonics. Their jam evolved into a free jazz workout of sharp chords interspersed with percussive noise from prepared piano, coupled with twisting, unpredictable clarinet lines.
Scant Intone's unpredictable live electronics were very much with the tone of the evening, though coming from a decidedly different direction. The digital sound design was intriguing and his face was lit eerily by his laptop.
The Rita really shook things up with a bracing set that trod a fine line between chaotic sample-collage and bracing feedback sculpture.
The music from that night was definitely not for everyone. I admit to cringing when Lief Hall got into the very high registers. But there is something special about a performance when the artist is not only improvising, but also doing so outside of bounds like musical keys or a chord progression. It shows another angle on what we call "music" and was quite inspirational for those with an open mind.