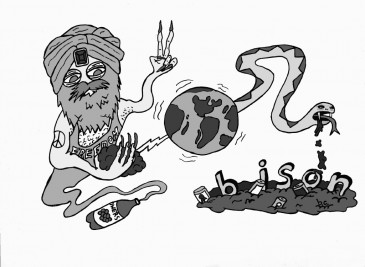 Since the release of their debut album Earthbound in 2007, Vancouver's favourite dirt-bag sons Bison B.C. have been giving their audience a reason to shower beer over the sweaty throngs of fellow metal-heads alongside them at every show. Songs like "These Are My Dress Clothes" and "Earthbound" compel you to crack several beers and scream along. Inevitably, though, the party has to come to an end. People "mature," tastes "refine," and before we know it, we're all fawning over the latest vintage of Pinot Blanc from the Okanagan. But once in a while you get that friend that achieves an amazing balance of the two. Sure, they care about global warming and they've cut down on their salt intake–but they never ditch on a good kegger come Friday night. Enter Bison's latest release, Dark Ages. Following the heavy intro to opener "Stressed Elephant," Bison roll out the french horn. With all apologies to "Peter and the Wolf," has the french horn ever been cool?
Well, now it is. On Dark Ages, Bison have brought a maturity to their music without abandoning the riffs that make you want to jump-kick through a coffee table. The arrangements are more complex, the lyrics more insightful, but the end result remains the same. Discorder caught up with frontman James Farwell in Greenville, South Carolina in the middle of their tour with High on Fire, Priestess, and Black Cobra and discussed Dark Ages, the band's seemingly non-stop touring cycle and a shared fascination of Insane Clown Posse and the Juggalo culture.
"The last few tours have been great," Farwell started. "We've had the opportunity to tour with some great bands and really make some lasting friendships in every city, which is the upside of touring."
While the current tour with High on Fire will create little friction amongst audience members given both bands' propensities to gravitate towards heavy, chugging riffs, some of Bison's other tours have been stranger pairings—like their recent stretch with Boston metalcore act, Shadows Fall. Yet instead of shaking their heads at the bad match, Farwell relished the opportunity to play for audiences unaccustomed to Bison's particular brand of heavy metal. "The great thing about playing on an eclectic bill is you get the opportunity to possibly broaden someone's musical horizons. Worst case scenario, someone's left in the audience thinking, 'Who were those hairy idiots jumping around? I don't understand what they're up to.'"
Playing in smaller, more obscure markets can also bring about some amusing tour anecdotes. Those in attendance at Bison's Halloween show with Black Mountain will remember the band dressed up as members of Insane Clown Posse. Farwell recalls that the last time the band were in South Carolina, "a guy pulled up beside us in this busted up Cadillac sporting the worst faded, shitty "Hatchet Man" [one of Insane Clown Posse's logos] tattoo. I mean, it's a whole different planet down here."
In between several tours to support their second album, Quiet Earth, Bison recorded Dark Ages at the Hive Recording Studios in Burnaby with Jesse Gander taking over recording and producing duties for the third time. Farwell described the writing process for Earthbound and Quiet Earth as more "organic," but he maintained that there was a structure and texture that he has been aiming to bring into Bison's music—something he feels the band has achieved with Dark Ages.
"During the recording of Quiet Earth, I started thinking that if you're going to be writing an eight-minute song, it's not only the riffs that are important, it's the arrangement. On Dark Ages, we've really stepped it up on plotting out the songs a bit more," Farwell said.
Farwell stated that in particular, Gander's familiarity with the band helped them improve their vocal arrangements. "I don't like having to worry about that stuff. Jesse was a great help with that. I mean, he didn't change the way I sing—I still pretty much yell, in key—but delivery and placement? That's Jesse's thing. Me? I'm a Neanderthal. I don't fucking know, man!"
Yet for a self-professed Neanderthal, the introspective quality of Farwell's lyrics on Dark Ages is further evidence of the band's musical evolution. While in Quiet Earth and Earthbound wizards and bison-headed alien races abound, Dark Ages sees Farwell largely abandoning fantasy in favour of the harsh realities of poverty and drug addiction plaguing our city. On "Two Day Booze," Farwell yells, "Vancouver's an empty bottle, our thirst causing problems," while on "Die of Devotion" he spits out, "Die of Devotion, chasing a veiled dream / Die of devotion / Your blood, the needle / Your heart, the bottle." For Farwell, this was just another part of the band's growth, "I'm just trying to live a bit more in reality these days, you know? Ivv mean, what's happening with Vancouver, it's the same old thing. The rich get richer, the poor get poorer. I've just never written about it as personally before as I did on this album."
The frontman for the band that played a Fuck the Olympics gig in February continues, "It's a city of dreams. If you can fulfill any of those dreams without succumbing to those sort of greedy ideals that are encompassing our city right now, if you can carve out your niche and have a good life there, then you've done some good, honest work, because it's a hard city to live in!"
After their current touring stretch, Bison will be returning home in early May before embarking on another Canadian tour followed by a European tour in the fall. They're also looking to release their catalogue on vinyl, "It's going to happen. Our label isn't too into doing vinyl right now, so we're just looking into alternative routes for that to happen," said Farwell.
As for taking a break, that doesn't seem very likely in the foreseeable future. "I'm already toying with ideas for the next album," Farwell admitted. "I'd like to take no longer than a year before our next release."
So in closing, a few suggestions then: One, buy Dark Ages, it'll blow your balls off (ladies, I'm sure it'll tickle your ovaries or whatever the anatomical heavy metal equivalent might be). Two, come out and see Bison when they come home—and bring a few friends with you. Three, buy these guys a beer or six—they've worked too hard to return to an empty bottle.