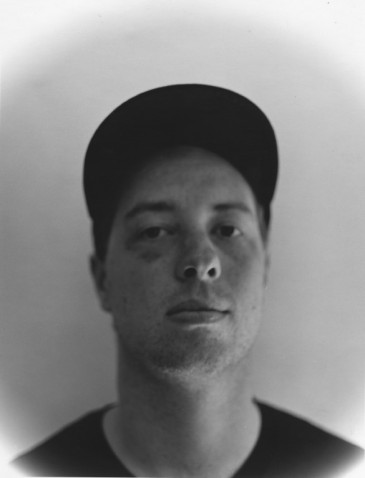 Cameron Reed is perhaps best known in Vancouver for his work with Music Waste and Only magazine, but he is also Babe Rainbow, a DJ recently signed to Warp Records. Discorder sat down with him to talk about discordancies and some hideously awesome pants.
Discorder: How would you describe your music?
Cameron Reed: I don't know, I would just call my music dark.
D: How would you say your music reflects your personality?
CR: I've generally been into the things that are more, you know, strange or obscure or experimental. Personally, I don't know. It's driving. I guess I've never thought about it like that before. I guess if you met me in person you wouldn't expect me to make the music that I make. I'm a pretty laid back guy, but I'm totally aware my music is anything but. It's pretty urgent and ominous, creepy. I wouldn't call myself creepy. I don't know. Maybe it's the opposite, maybe it's kind of one of those things where an artist kind of expresses the things he can't … in the everyday. I don't know how much of a dark side there is to me.
D: What's the story behind your name?
CR: The name, I kind of, you know, came of age with music during sort of post-hard core years, you know a lot of Blood Brothers, a lot of stuff on Killrockstars, a lot of that sort of post-, you know, early '00s/late '90s hardcore. And a lot of those bands and the second wave of bands had kind of, I always thought, silly names, but also fun and clever at the same time. The kind of names that pull two seemingly opposite words together and it would make a catchy name. I don't know, my best friends all used to play in a band called Raking Bombs, which also kinda sounds strange, but also gives you a very visceral image in your mind. Or Twin Crystals is another local band, two words that are seemingly different but you know when brought together bring an interesting image. I always thought that was kind of funny and Babe Rainbow is actually a painting by a pop artist named Peter Blake who was popular during the first wave of pop-art, and I remember seeing that painting. I was in college and I thought like, "Oh that's funny, Babe Rainbow… it's a lot like those, you know other post-hardcore band names." I always thought that it would be funny to name something like that but uh, you know, I didn't have the opportunity. I was already playing in a band called Hot Loins which is I guess another one of those band names where you pull two things together and make a ridiculous band name out of it. And then when this Babe Rainbow project came about, I realized that I needed a name, and I think I went through a handful of names before I was like, "Ah, screw it, I'll just go with the one I thought was funny."
D: That's awesome.
CR: Kind of an accident you know. People seem to like it and I like the disparity between the sound of the music and the way the actual name makes you feel.
D: I like the way it feels like dub in some ways…
CR: Yeah absolutely. I mean, it's funny because I'd say it's kind of a push and pull. I'm very much inspired by dub, by just dub music proper. But I'm definitely using some elements of dubstep, but I don't really feel like I'm making either style of music. I'm not saying that I'm making something wholly original or different. But you know, I'm certainly drawing inspiration from both styles of music.
D: How did this all start?
CR: I think the music itself is a sound that I've been wanting, you know, drony music. Oftentimes the sound from the song that I've liked most from an album is usually dissonant. A friend of mine gave me copy of Ableton Live and I just ended up playing around with it. I had a MIDI controller and I had the ability to do it all on a computer. More than anything, I had decided I was tired of being a perfectionist and waiting too long to record.
D: What are you listening to right now?
CR: I've been really into the new Caribou album and the new Four Tet album. A guy that's on Warp Records as well just released his first album with Warp, his name is Gonjasufi. It's really an amazing kind of amalgamation of so many different styles of music. It's incredible. It's super refreshing because often you see people try to really do all styles of music at once. And I just like the freedom of, you know… it'll be whatever I want. It's my voice. You know it's the voice and the production that brings you in. It's not the style at all. So yeah he's been amazing. I'm working on a remix of his right now. I think its one of the new singles, "Holidays." It's a fantastic song. So yeah, I always pick up new stuff. I'm always downloading, you know, the new rap track come out. I'm a bit of junkie for following rap blogs, so I always have whatever new single is out for that.
D: What would you say your worst fashion secret is?
CR: Well I'm not too ashamed of them, but everyone that sees them feels that I should be. I have an awesome pair of Zooba pants, do you know what those are?
D: Nope.
CR: They look like Golds Gym pants, and they're zebra print, and they're yellow and orange and they have a big Canucks logo on them. I'm pretty proud of them but people don't seem to like them.
D: Any future plans?
CR: I'm talking to the label about another EP. I'm trying to get together a few collaborations with a few rappers which I'm really excited about. I got another video coming out by a couple awesome production teams all collaborating on it that I'm really psyched about. I've been asked if I want to do a piece for an art opening in New York or something and the details are being worked out right now. Yeah, just always producing, always making music.