They're actors. They're teachers. They're DJs. It sounds like a sitcom, but it's the story of Jamie Taylor and Sarah Faye Bernstein. Comprising The Jamie and Sarah Experience Project, the two have an energetic, art-based best-friendship comedy duo. Meeting in a clown class (as comedic performers do) while both enrolled in the SFU BFA Acting program in 2011, Taylor and Bernstein enjoyed how each other willingly accepted failure, didn't take themselves too seriously, and used self-deprecation for people's enjoyment. In addition to performing, both are teachers: Jamie works as a teacher-on-call in North and West Vancouver, and Sarah is completing her Bachelor's in Education at UBC studying high school drama. Together, they DJ monthly at the Biltmore Cabaret, and they collaborate on an 'experience project' that produces honest, funny videos and alternative theatre.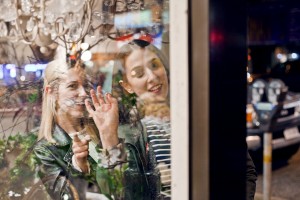 Bernstein grew up on the move, her parents living in Malaysia and parts of Africa throughout her childhood. As a result of her travels, she became very close with her brother and sister. Bernstein began making videos at the age of ten with the intention of making her siblings laugh, adopting the "sense of humour of a fourteen-year old boy" that her mom possessed. Bernstein moved to Vancouver from Calgary in 2009 to pursue her BFA.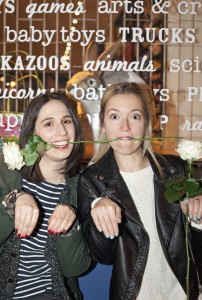 Taylor grew up in Vancouver, recording her own mock radio shows on cassette tapes as a kid, and impersonating hosts and the songs they would play. She wanted to be a performer when she was young, but also realized a love for teaching. In 2007 Jamie joined the Acting program, and in 2013 took a B.Ed in primary school at UBC.
The Jamie and Sarah Experience Project began in 2013 when the two agreed to perform at BLiNk, a cabaret-style show of performances. They came up with a bizarre and lovely idea:
"We wanted my big golden retriever, Ollie, to just be in a sweater. We thought it'd be funny for him to walk around in a sweater," says Taylor. "So we made t-shirts with Ollie's face on them, wore the same outfit [as Ollie], and showed the audience that Ollie can do a trick. The trick was that Ollie could sit, and then we made everyone applaud. The whole rest of the sketch was getting everyone to keep clapping for us, but it built up to me giving Sarah flowers and an award, her doing an acceptance speech, and us nodding our heads in that 'actor way.'"
In 2014, the duo produced their first short video. "How To Live Like Jamie & Sarah" portrays an exaggerated version of Taylor and Bernstein presenting their odd philosophies to life, like an abstract Martha Stewart video.
"We wrote it based off a tampon commercial," says Bernstein. "We were laughing at tampon commercials and how they were all filled with inspirational quotes, like, 'Dance like nobody's watching.' What? So we started making fun of inspirational quotes, saying stuff like, 'Life's a game. It doesn't matter how hard you play, you win.' We used the quotes and the tampon commercial as a structure, and then filled in the gaps."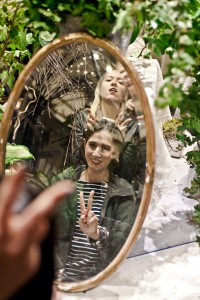 Building on its success, the pair wrote and produced "Jamie & Sarah Get There" in 2015, a short video that opened Back Away, Slowly, a theatre collaboration between SFU alumni and Theatre Replacement at the Shadbolt Centre for the Arts last June. They credit their success with amazing film partnerships with up-and-coming directors like Daniel Jeffery, Vladimir Fedulov, Mackenzie Warner, Joel Salaysay, and Brendan Prost.
"If you want to be an artist, volunteer your time with people you admire, because they will help you out," says Bernstein. "We're so lucky. We buy them beer and pizza and say 'Thank You! Thank You! Thank You!'"
Right now Taylor and Bernstein are working on a new project with their film collaborators, tapping into a passion or self-exploratory video.
Bernstein explains, "Jamie and I wrote a five-part series called, 'Jamie and Sarah Make A Play.'" She continues, "We're getting back to poking fun at theatre. It starts with Jamie and I saying we want to make a play. Each episode is a different step in making the play. There is coming up with the idea, rehearsing, doing auditions, doing promotions, and then actually doing the play. But the thing we're most excited about is that we're getting a different director to produce each episode." Though their web series mocks certain aspects of theatre, it is all in honest fun. The content of the episodes is based off actual experiences that have shaped them as artists.
With their work in video and onstage, Jamie Taylor and Sarah Faye Bernstein have created a united comedic identity in their own friendship that is open, engaging, and hilariously revelatory. Because they appreciate their own devotion to self-based humour, the two have become characters in their own passion, like Bill Nye or Ernest. I sincerely hope they are able to befriend many more with their brand of comedy.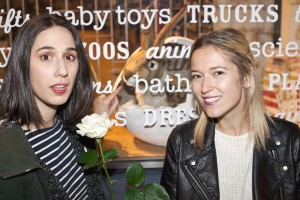 x
Check out Jamie and Sarah's website at www.jamieandsarahep.com. They DJ Guilty Pleasures at the Biltmore Cabaret the first Friday of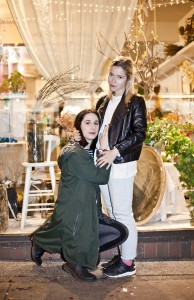 every month.
The Sidebar
Taylor, on the duo's sense of humour:
"So many comedians are observational. We're observational about ourselves. I know that sounds vain, and it's very much about us, but it's not that the world needs to know about us as people; It's just about making fun of real fucking stupid shit we've done."
Bernstein, on the duo's belief in relatability:
"We all think we're so special. We're not. We're not special. There are millions and millions and millions of people who are copies of us. There are so many people who have the same thoughts as us. So when someone says something that connects you to them, that's great. We're searching for connections. We're saying, 'Do you do this too?'"