"This is my first official interview that isn't a job interview."
And it shows. Savana Salloum, a.k.a. Plazas, plays it cool, but a subtle quiver in her lip tells me that she's got more to share.
Search Plazas on Google, and you'll have to scroll more than a few pages to find the Soundcloud link to Salloum's music. Until releasing "Silent Empires," the teaser track off her upcoming EP Empathy, Plazas' Soundcloud has been quiet. Her first EP Internal was released over a year ago, conceived and produced as Salloum's final project for the Digital Music Production program at Langara College. Salloum credits this program with providing a strong footing for the music industry: "I took it because I wanted to be able to do everything myself."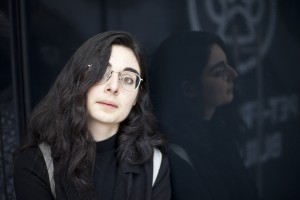 Independence and self-sufficiency seem to define Plazas. Every aspect of production from the recording and mixing, to the album art is done by Salloum herself. It is a personal project. Though the name Plazas is inspired by Salloum's fascination with the uses of public space spanning civilisations, Salloum summarizes the name's significance simply as, "I like the mood of it."
Salloum began her music education at three years-old with the violin, and took up the piano shortly after. In terms of music discipline and focus, Salloum had a turning point in high school. "I realized that when I was practicing I was playing less of the material and more improvised writing." Salloum continues, "I realized I could actually make stuff up, and that's when I started wanting to get my ideas out there."
Plazas is electro pop, and Salloum is quick to admit it is influenced by '80s new wave. Yet unlike new wave that relies on guitars, Plazas uses exclusively synthetic sound. For Salloum, this decision is obvious: "A guitar is the most conservative instrument in the world. I am trying to show people that a laptop is an instrument, and it makes way cooler sounds than a guitar ever could."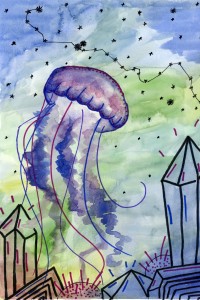 I ask Salloum her thoughts on Grimes, and she lights up. Salloum's love of Art Angels was a slow seduction. She admits hating it so much at first that she couldn't listen to the album as a whole. As months passed, however, certain beats and lyrics stuck with Salloum, and she developed an appreciation for Grimes' ambition. Salloum explains, "I think what really changed for me was that I realized I also want to be making pop music, so hearing how someone can totally embrace [pop] in their own aesthetic, and do narrative storytelling with it and develop characters, it's pretty incredible."
Before aspiring in music, Salloum wanted to be a filmmaker. Imagining scenes has remained part of her creative process. "I have a different process of writing. Sometimes I will play something on a keyboard and I can visualize a movie scene or character," Salloum adds, "But [music] is a lot better because I don't have to go through the trouble of making a movie, and I still get the visuals through the sound."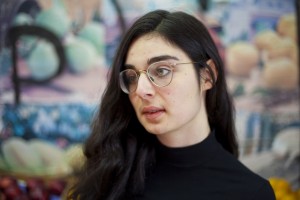 Plazas tracks are meticulous and precise when recorded, yet intuitive and spontaneous when performed live. While the Soundcloud may have been neglected over this past year, Salloum has been busy sharing her sound with small audiences. Plazas first performed at Happy Hour Radio at 303 Columbia last May, opening for Whitney K, Mesa Luna, and Gal Gracen. Mesa Luna took special notice, and invited her onto their newly-formed nbd label. Salloum remembers, "They were like, 'You have an EP, right?' And that's how it happened."
Almost a year later, the EP is finally ready. Though Internal was technically Salloum's first release, Empathy is her true debut. The 5-track EP will be available on cassette and digital download. It is atmospheric synth pop at its best, with Salloum's vocals breathing ice between the beats. Empathy is a strong and confident statement that marks her coronation as Vancouver's latest pop princess.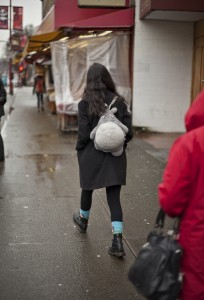 x
The official release party for Empathy is March 31 at the Lido, with live performances by Plazas and Poshlost. Visit nbdlabel.com for more information and updates. You can also follow Plazas at soundcloud.com/plazasmusic, or @plazas.wav on Instagram.