"It's an alternate identity from the strength of a certain time period of my life, a thing I can use to be creative." It may have started out as just a nickname he earned for wearing two purple shirts to a recording session, but the Purple Prince has manifested itself into an alter-ego for Fergus MacConnell, more commonly known as Iceberg Ferg. The Pacific artist is known for blending country and blues with his falsetto, and is no newcomer to pseudonyms – he's been Iceberg Ferg for the majority of his performing life.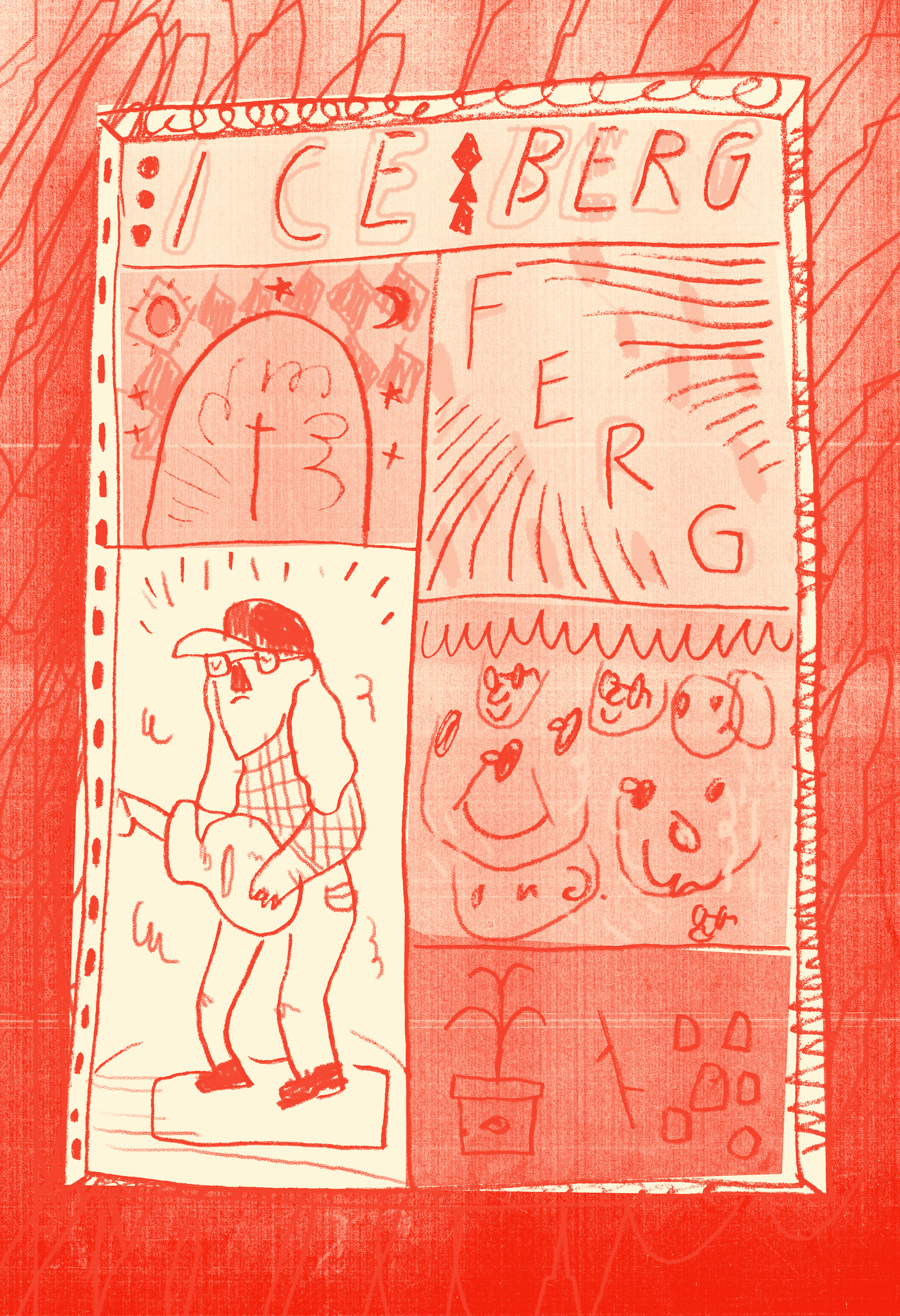 It's a name that Ferg traces back to a blues festival he attended with friends. They signed him up to play in an open-mic section as "Ferg, The Iceberg, MacConnell." Ferg believes this stems from his onstage persona: "I think it's just how I present myself, I sing high and I'm pretty inward on stage."
It eventually became Iceberg Ferg and now he has just released his fourth record, In The Valley Of The Purple Prince, released on February 3rd. He recorded the album at The Dispensary on Salt Spring Island, a studio owned by his brother Duncan MacConnell (Slam Dunk) and Robert DiNinno (Freak Heat Waves). This studio is where Dark Glasses and Pat Flegel (Cindy Lee) have recorded LPs, and where a number of Built To Spill videos were shot. Here, Ferg assembled a dream team, so to speak, of familiar artists from Victoria's music scene. Duncan MacConnell, DiNinno, Shawn Trail and Chris Newman all play on the album. It is mastered by Julian Marrs, who in addition to playing his own music, worked on Cult Babies' recent EP Off To See The Lizard. DiNinno primarily played bass, but also recorded a few harmonies – you'll have to listen carefully to hear those vocals, as Ferg is bound to secrecy: "He doesn't want me to tell anyone where!"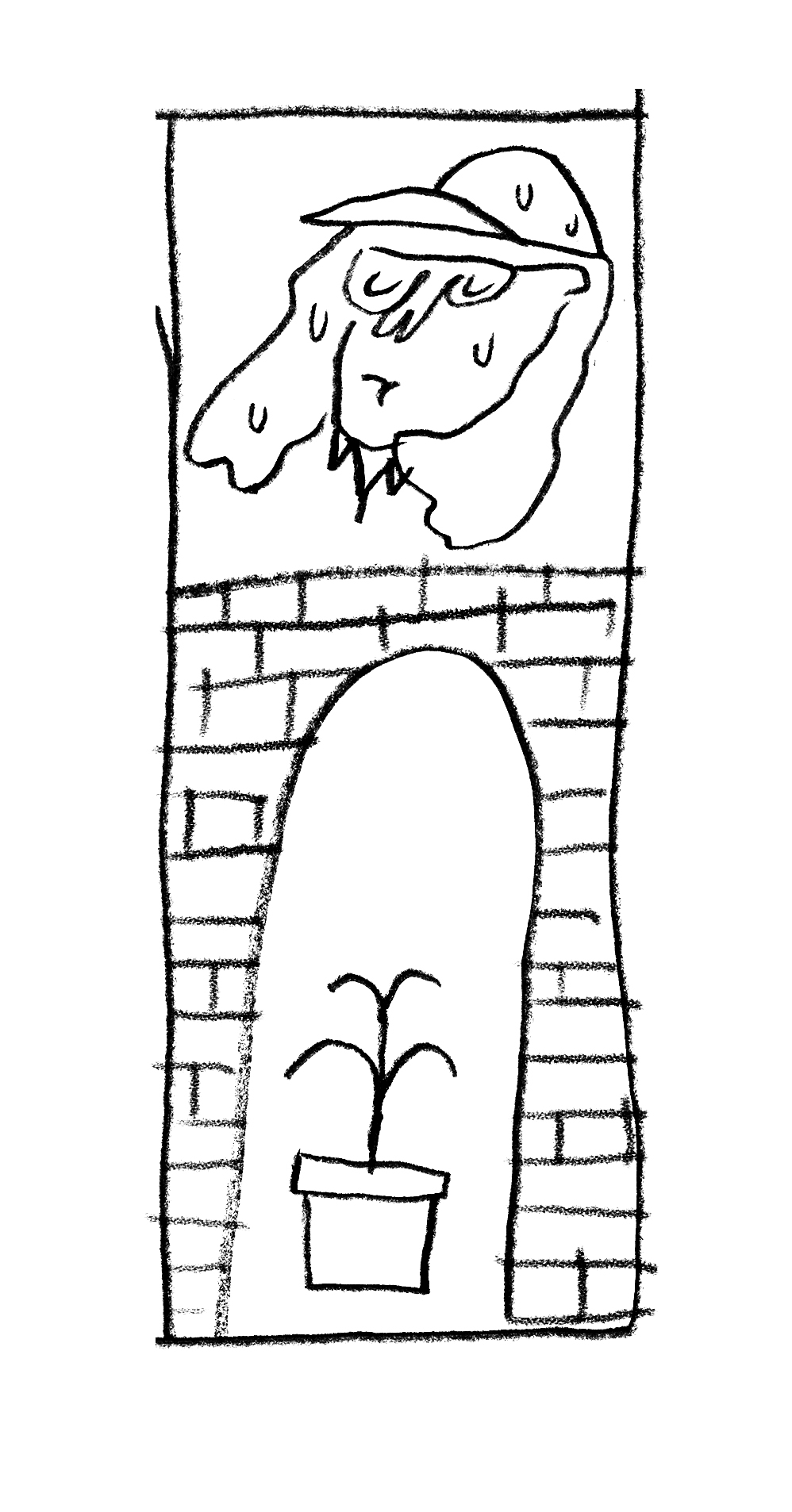 This line-up allowed Ferg to come to the studio with the majority of the songs written, but let the finishing touches happen organically in the process. "I just feel comfortable with these people," says Ferg. Album opener, "Between The Mimosa Flowers," is a perfect example of where Ferg "had the guitar piece, and Chris just did his thing."
Another Victoria musician, drummer Luke Postl (Slam Dunk), did not play on the recording of the new album, but joined Ferg on a recent tour from Seattle to Las Vegas, opening for Idaho's Built To Spill. This meant playing larger, sold-out venues. Despite describing himself as "not a natural stage person," the larger stages didn't phase Ferg. He credits this in part to previously opening for Built To Spill at the Commodore Ballroom last July, but also to Luke: "It's good to have someone up there with you, you know." During these shows, he and Luke showcased a mixture of old tunes and songs from In The Valley Of The Purple Prince. This blend was due to only having a month to prepare for the tour and "it was easy for Luke to slide in and play drums" on older tracks that just fit well with percussion.
After recording In The Valley Of The Purple Prince, the persona he adopted inspired a creative phase for Ferg, and he hopes to be back in the studio to record his fifth full-length album in June. Despite the influence of the character, the future of the Purple Prince or potential new identities remains undecided. "It'll be different next time," Ferg explains, "Or maybe it will pop up again."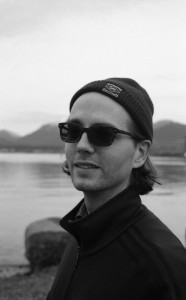 Ferg will, however, certainly be exploring more guitar duets on future recordings, a sound which Ferg himself can't get enough of: "I just love listening to guitar, acoustic especially. I've always been pretty adamant that's the one that feels good in my hand, the one I like the sound of." He's hoping these future pieces will happen in a similar organic and collaborative fashion as In The Valley Of The Purple Prince. Ferg also hopes to incorporate bass parts that his older brother, Calum MacConnell, has been working on. Though he's quick to point out, he doesn't "ever want to have a full band."
Growing up in a musical family influenced Ferg greatly. Along with himself, Duncan and Calum, his sister Eilidh is also a pianist. While his dad, Neil, is a folk artist in his own right. Ferg describes him as "a great finger-picker," always playing "Freight Train" by Elizabeth Cotten, a blues artist famous for her signature alternating bass style. In fact, Ferg recalls one of the first albums he remembers his dad owning was an Elizabeth Cotten record. This inspired Ferg to include a cover of Cotten's "I'm Going Away" on his own album, as a tribute to the great artist.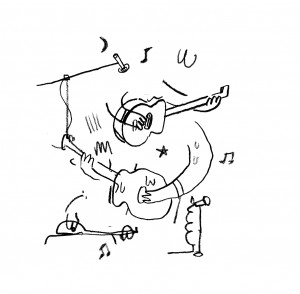 There is also a cover of bluegrass artist Johnnie & Jack's "Ashes of Love" on In The Valley Of The Purple Prince. Ferg and his partner, Jacqueline Tevlin, were taught this song at a bluegrass harmony vocal class in Victoria. "There's a lot going on with that song," explains Ferg, as it "comes from a time at the beginning of a relationship and singing with that person, so it means a lot to me." The harmony that he and Jacqueline achieve is a sound he will be looking to explore more on his next record.
Jacqueline also shot the cover photograph for the album, showing the Purple Prince walking through Mount Douglas Park on Vancouver Island surrounded by purple blossoms. The shot would look great on a 16" vinyl. Despite being a big fan of the format, this is the first LP Ferg has not had pressed: "We were going on tour and I just wanted to get it out digitally." There are plans to do this as soon as possible, however, as Ferg believes "guitar and vocal sound especially nice on vinyl."
With this pressing on the horizon, his fifth album, and a local tour pencilled in for the end of May, the Purple Prince is most certainly in a purple patch.
x
To listen to In The Valley Of The Purple Prince, or previous Iceberg Ferg albums, visit icebergferg.bandcamp.com.