For this installment of On The Air, Discorder welcomes Crimes And Treasons to share the names of artists and groups helping to define and redefine the local hip hop scene, many of whom have been featured on the program. C&T airs uncensored profiles of rap artists from around Vancouver on CiTR 101.9FM every Tuesday night between 9-11pm.
THE TROUP!
For over a decade, Crimes And Treasons has been interviewing and playing hip hop from our rainy city. Current hosts, Homeboy Jules, Relly Rels, Jamal Steeles, Lucky Rich and Horsepowar have been venturing out to build a platform for local artists to shine. With hundreds of interviews and guest DJ sets in the archive, C&T offers an introduction to the unique rap sounds of Vancouver.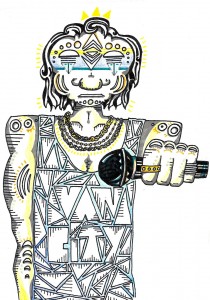 SETH KAY
Formally from the rap duo District 36, Kay is now venturing solo as part of the 'New Era' in the Vancouver rap scene. Those familiar with Vancouver creative Jaykin will appreciate that Kay's melodic hooks and catchy bars truly speak to being 'on vibe.' He has the ability to make tasteful and discerning music with just the right amount of wordplay to match the beats. One of his talents is to give all quality and no filler. His most recent EP SEE U IN L.A. will carry forward as some of the best work in the city. Kay's impressive use of visuals in his videos such as those for "Direction" and "WSUP" help to bring out the cinematic quality of his music. The artist's videos, produced by Dixon Lee, are not your standard R&B videos with the artist singing directly into the camera, but rather thoughtful, reflective, and slow-moving pieces about our city and the City of Angels. Kay is currently working on a new project, and has most recently dropped a remix of Erkyah Badu's "Phone Down." Be sure to listen for Seth Kay in studio on C&T in April.

ROMI
ROMI is a duo comprised of Futonious Don III and SoulBoi (a.k.a. Real Smooth). The group's name is an acronym for Rise Of My Inspiration. ROMI is Vancouver's answer to the new currents of soulful trap and experimental sounds in hip hop music today. With many in the city comparing their sound to that of the Soulection collective, ROMI continue to show great stage presence as well as having some of the crispiest studio sounds Vancity has to offer. Futon's verses vibe out and speak to some deeply personal and refreshingly transparent thoughts. You can hear the sounds of the Futon Don on the Chapel Sound Compilation Vol. 1 and on the Crimes And Treasons Best of 2015 mix. The duo's new music features local artist LaGo, an R&B artist whom they met serendipitously at a local gym. Listen to an archived interview with ROMI and LaGo, as well as exclusive premieres of their respective upcoming projects on the C&T archived episode for February 16.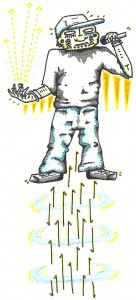 HORSEPOWAR
Jasleen 'Horsepowar' Powar is one of five hosts on C&T, and is venturing on her own musical endeavors. This Desi rapper not only has clever wordplay and playful lyrics, she also uses the theatrics of Bollywood, visually and sonically, to take the audience on a journey from her hometown of Richmond to the bustling downtown streets of India's cities (where she is currently touring). With the release of her latest mixtape Out2Lunch dropping earlier this month, the artist known as Horsepowar finds the balance between mysterious poetry and tongue twisting bars. Horsepowar has dropped numerous DJ sets on air, and has interviewed artists Jamie XX, Just Blaze, Nacho Picasso, and Vialz. Horsepowar, alongside C&T host Homeboy Jules, will be performing at the SXSW Showcase in Austin, Texas this month.
CHAPEL SOUND
Chapel Sound is a Vancouver supergroup. Think The New Pornographers, but 'Triiiiippy Mane!!!!' This collective of DJs and artists have continued to give their loyal listeners a wide range of sonic sounds for the past five years. Their latest releases have hip-hop, trip-hop, house, trap, electronic, ambient and experimental tracks from some of Vancouver's best producers, who all reside in their camp. Clearly this army of DJs have a bright future in front of them, which is probably why they all rock shades. What's really impressive is the size of the crew — it includes dozens of artists that voltron into one cohesive entity. Artists on the label include WSUPTIGER, Shaunic, Jolin Ras, Joseph L'Étranger, Kutcorners, all of whom have dropped DJ sets and exclusive tracks on C&T. Chapel Sound exists not only as a collective of producers, but also as a group of individuals who set up unique events and late night parties in the Vancity area. Be sure to catch Chapel Sound and their affiliates heating up the dancefloor at your local after-hours.
x
To learn about more artists, or browse 12 years of C&T podcast archives, visit www.citr.ca/radio/crimes-and-treasons. Crimes And Treasons airs every Tuesday between 9-11pm on CiTR 101.9FM.