Though its interior is approximately the size and shape of a livestock barn, the WISE Hall's chandeliers and string lights gave it an air of ethereal, sweaty glamour as hundreds of punks crowded up to its stage. Everything glowed a little too brightly to be real. From the stage light glittering off a guitarist's tiara to that same light reflected back in the wide eyes of the dense and swaying audience, the release party for Alien Boys' Night Danger shone bright, alien and dangerous in the night, just as promised.
Sarah, Alien Boys' vocalist, moved across all dimensions of the stage, vertical and horizontal, forward and back, just as their voice ranged through all possible dimensions of performance. They sang, they shouted, they whispered, and each word was just as gut-punchingly powerful regardless of its volume.
Alien Boys' instrumentalists had no less presence. The two guitarists, Alex and Erin, glowed with power across the stage. Sometimes a five-piece band with two guitarists feels a little combative — Alien Boys did not. Alex and Erin had an enthusiastic conversation across the stage via guitar, like two friends shouting across the street. By the end of the show, their conversation had become a reunion, as they migrated into each other's space, fretboards crossed, leaning together. The bassist, Megan, had a steady presence stage left, solid and rooted, never faltering. Behind her, on drums, Lindsay played like she was a vessel for the rhythm — as though the drums were playing her more than the other way around. She looked simultaneously exhausted and invigorated.
I could empathize with that. I did not come to the show expecting to feel much — not because I underestimated Alien Boys, which I would never dare to do, but because it was my second show of the night and it was cold and I was tired.
But I felt it. And it was big. And yet I still don't know exactly what it was.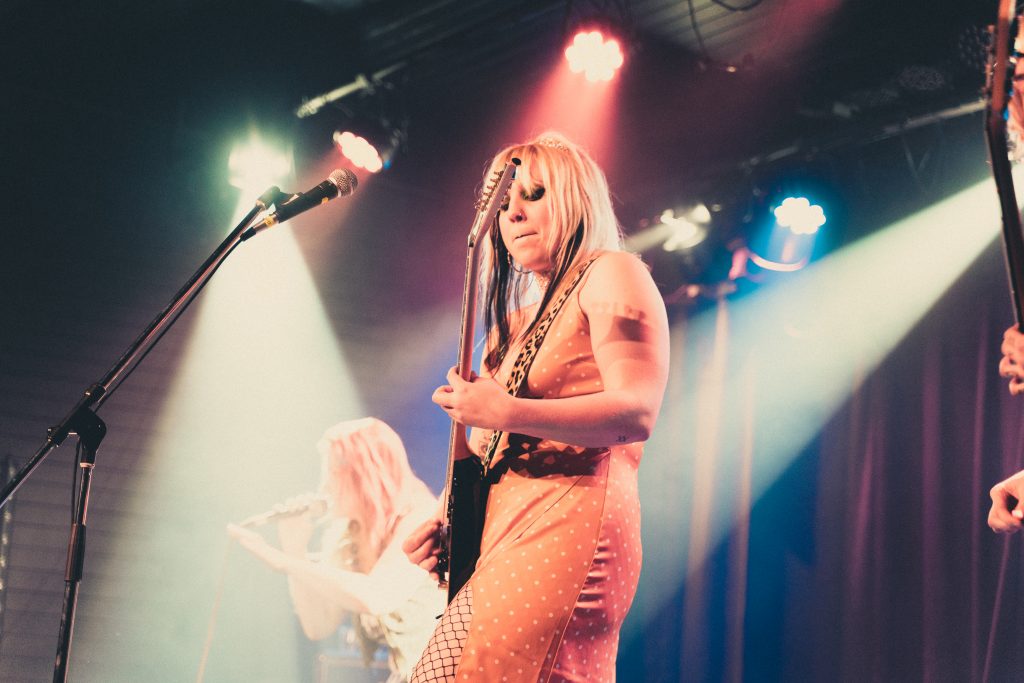 As I took notes in a shadowy corner toward the lip of stage right, an obviously drunk, middle-aged man sidled up to me. I expected some nonsense, but what I got was confirmation of the same mysterious energy that I was beginning to feel.
"Look at this," he said, gesturing to the five otherworldly furies onstage. "They're all up there, and there's a hundred punks in this hall and none of them know why they're here. But they're here. They're here."
That man was drunk enough that it was a difficult observation to interpret, but I heard some truth in it. There's something inexplicable in the way Alien Boys perform. Something that roils up from a dark, deep-rooted place and compels you to be really, truly present. They played through their entire new album, and every second of it felt like the very first one.