On a late Friday morning, I meet with Samantha Nock and Eirinn McHattie for coffee. Our greeting is coloured by the caffeinated interactions all around us. Past the window glare are glimpses of condos in their final stages of development, greying what is otherwise a bright Vancouver day.
That evening, Nock and McHattie would be hosting their sixth installment of Poetry Is Bad For You (PIBFY) —a refreshing anomaly in contrast with standard event formulas of the literary world, where academically-dominated exclusivity can tend to centralize the interests of established institutions and published writers, university creative writing departments, local publishing companies, and the financial aims associated therein.
While, as of late, a more diverse spectrum of literary events has been coming into form, PIBFY has mobilized an impressive counter-response to elitism in the lit sphere, making space for emerging writers and experimental engagement.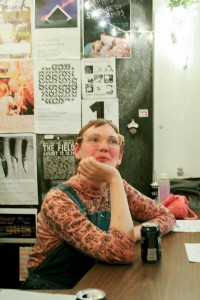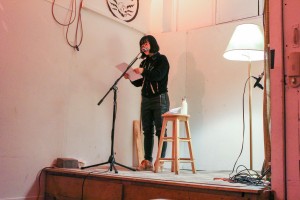 Poetry Is Bad For You has introduced an unprecedentedly cool and colloquial approachability to the interchange between poetic output and reception, encouraging a perspective shift of what poetry readings can be. In its inception, Sam and Eirinn hoped Poetry Is Bad For You could straddle the literary and DIY scenes, offering an accessible space to anyone and everyone — regardless of their familiarity with poetry.
Of course, it's easy to see why PIBFY has been such a uniquely popular addition to the arts community: Sam and Eirinn have embraced and integrated key organizational cues that have vitalized other successful local events, while subverting the rigidity and formality inherent to many literary readings. Listeners are encouraged to hang out between performances — drink a beer, get air or have a smoke, catch up with old friends and make new ones.
"I think it's just really nice to have this event where we're not associated so much with the lit world, which can be really intense and kind of has this like, publish or perish idea, where you have to already be semi-established to get a toe in," says Sam, explaining that PIBFY offers a space for emerging writers and "people who've never read before and wanna take a chance in a nice and comfortable atmosphere to just do it, and just try, low bar, no pressure."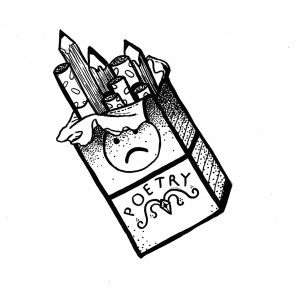 The encouraging environment cultivated at PIBFY has acted as an important step towards increasing openness and malleability in the local poetry sphere, paving the way for further expansion and experimentation in Vancouver's rapidly-evolving lit scene.
"People can be exposed to some language that's fresh, and some feelings, and you're sort of free to take that how you want," says Eirinn of the events. "I think some poems are more direct than others, and there's such a wide range. I just really like this idea of exposing people to the opportunity to hear something that's gonna change the way you think […] in a didactic way […] or it can be in a more abstract way, that just forces you to make different connections than you otherwise would."
During PIBFY events, readers and hosts alike have spoken candidly and critically about the minutiae of sociopolitical oppression, topics breaching: sexuality, mental health divergence, gender and racial tensions, radical love, drug use, and more.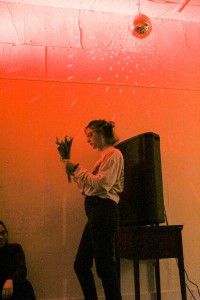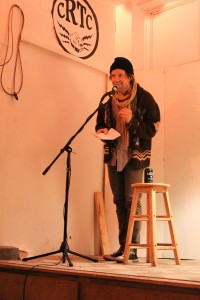 The readings have served not just as a politically and creatively generative space, but a dynamic alternative to the usual weekend run of Vancouver events. At PIBFY events, entry is by-donation, listeners can buy cheap beer and cider, scoop hummus and chips from the snack table, browse through zines and other materials by local writers and artists. Best of all, attendees get to hear incredible contemporary poetry.
"I've seen a lot of people who don't know each other at these events chat, people from all corners talking, which I think is cool. But there's also space if you need to take space. I think we're pretty friendly people. It's a welcoming place," says Sam.
"I don't know what their exposure to poetry or readings has been in the past, but it's always very positive, and readers know that they're not gonna get laughed at or whatever," Eirinn continues. "If someone's laughing during your poems, it's cause you tickled them."
Best of all, the event takes place at The Toast Collective, already a much-loved DIY venue that offers room for community-based artists, musicians, and collectives to put on events, shows and workshops, and which has, thus far, stayed resilient despite rampant renoviction and general displacement of cultural spaces around the city.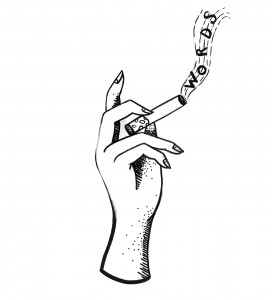 "It's been really cool. Like, I've been surprised at how good the turnout has been for all the events — knock on wood for tonight," jokes Sam. "I'm always scared that it's gonna be like a bad sixteenth birthday party, where you plan it and no one shows up. But I've been really surprised by how many people have come out, and the variety of people."
When asked what's in the future for PIBFY, Sam and Eirinn open up about their hopes toward growing the community: "Anything that makes it kind of more collaborative and more community-based is really exciting. And then the other thing — I'd love to do a zine," says Eirinn.
"I was just gonna say that! And maybe merch. I just need a new tote bag. This is completely self-serving," says Sam, laughing.
Regardless of what's to come, Poetry Is Bad For You doesn't seem to be losing any steam. The event has been consistently packed since their first reading last spring. When asked how emerging writers can get involved, Sam and Eirinn's advice is: "Get in contact with us, talk to us in person, send as an email — whatever."
Emailed submissions can be sent to peotryisbad4u@gmail.com (intentional typo). The next PIBFY will take place Friday, April 27 "at the Toast, naturally," Eirinn adds.
X
You can search for upcoming Poetry Is Bad For You events on Facebook.