Andrew is a Vancouver based artist who performs under the moniker Holy Hum.
Angela is a Los Angeles based artist who performs in the band Xiu Xiu.

What follows is an excerpt of a conversation that took place over the fall of 2016 into the winter of 2017.
Mon, Dec 19, 2016 at 8:28 AM
Andrew Lee
To: Angela Seo
I'm not sure what my purpose is at this exact moment. But what is meaningful and important in my life has been made clear and that includes my family and friends and then after that I would say my art. I like what Robert Filliou said: "Art is what makes life more interesting than art." Maybe at one point when I was younger I thought that art was everything and that I was ready to suffer for it. Now I'm like: give me life, give me food and then maybe I'll make some art.
You have a very strong sense of aesthetic. What type of role do you play in Xiu Xiu?
Tue, Dec 27, 2016 at 11:13 AM
Angela Seo
To: Andrew Lee
In many ways, the music and identity of Xiu Xiu is firmly entrenched within Jamie's identity. He is the founding and only consistent member, and in fact, he is Xiu Xiu. It wouldn't exist without him.
That being said, it's a very fluid working process with Jamie and I weave in and out at all stages to tamper with the sounds, textures, and structures of the songs. I also help with editing, mixing, designing the album art and layout, and making music videos. I play in some shows, not all, because I have another job, and help review contracts / biz stuff for the band too (I practiced law for a bit).  
I have a different approach to and varying tastes in music / art than Jamie, so it's an interesting dynamic. But I've worked with Jamie long enough to understand his goals, strengths, tendencies, and aesthetic, which helps me to see what he's trying to achieve and how to push certain things to get there.
Thu, Jan 26, 2017 at 11:15 AM
Andrew Lee
To: Angela Seo
My collaborators are almost always my friends. Or people that I want to be friends with. Ryan Flowers, Rob Tornroos, and Ash Poon are all people that I met in high school and who I still make music with today and none of the music would be possible if it weren't for them. Khan Lee, who is a jack of all trades, is someone who I work with a lot of the time on art projects and installations. And my partner Jacq is is often the person I am bouncing ideas off of and she is definitely the person that gets asked, "Which do you like better? A or B?"
I wanted to ask you about how you were feeling and what you are thinking about post inauguration. The Women's March in my opinion was a great first response and it helped remind me that I am not in isolation feeling scared for the future and that there are good people who do care about social and political justice. I marched in Vancouver with my partner and my in­-laws alongside over 15,000 other people and I felt for the first time in the last six months that we weren't going to get swallowed up into a void of some Orwellian nightmare. The march itself, I realized, was not perfect. But what was encouraging was that it was a peaceful demonstration/protest and that it was multigenerational.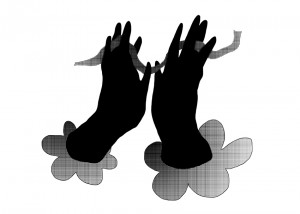 Mon, Jan 30, 2017 at 9:15 PM
Angela Seo
To: Andrew Lee
I've been struggling to find the right words that say everything I mean. All the fear, anger, sadness, hope, despair, absurdity. Nothing really seems to have weight enough when the scales are already so loaded.
I am also finding it hard to speak as words seem so easily manipulated and truth often useless in this age of post-­truths and alternative facts. There's so much talk of revolutions, resistance, nazis, fascism and it is so difficult to feel so much, and not react and speak emotionally. It pushes me to be mindful, if not vigilant, with my words and intentions.
I want a revolution. But I am not going to call mere reactions and sporadic acts of protest a revolution. I want progress. But no matter how much we regress, a mere return to status quo will not be progress.
I think this is why although I am lifted by the massive protests, and incredibly grateful of continuous and active resistance, I am wary of exaggerating the significance of these actions into a revolution. Instead, in these times, it seems to be a necessary and vital act of humanity.
That being said, shit's fucking crazy.
I hope we get a revolution.
What's it like looking in Canada — especially as such close neighbors?
Wed, Feb 1, 2017 at 8:31 PM
Andrew Lee
To: Angela Seo
I think that Canada's problems are much more acute and in a sense hiding out in plain site. At least in Vancouver I don't think we are afraid to erode or erase any semblance of our ancestral histories as long as we put up a plaque or a monument in its place. The city that I live in currently is built upon un­ceded Coast Salish lands and while there have been small steps to acknowledge this we still don't have a problem building pipelines on sacred land as long as we are putting up totem poles at the same time. The hypocrisy is real and in plain site.
I can't really say if things are better because of our current Prime Minister. He's gone back on his word for electoral reform and has been noncommittal with his promises to respect indigenous lands when it comes to oil pipeline construction. What I will say is that whatever is happening south of the border is happening in Canada as well. And I think Canadians would be foolish to turn their noses up at the US right now because we think that this could never happen here because it has already been happening here for the last 150 years.
Can I ask what you're doing to get yourself through these dark and depressing times? I haven't really felt that creative and it also feels a bit futile right now to drop a single from my new record when everything else seems not as important at the moment and somehow being an artist feels even more self indulgent than it already is. What should I do? Do you think there is any merit in creating something that might potentially be an escape for yourself and for someone else?
Tue, Feb 7, 2017 at 10:17 AM
Angela Seo
To: Andrew Lee
I definitely struggle with seeming irrelevant. When things are so grave, nothing can really seem meaningful enough. However, making music or art at this time isn't meaningless or simply an escape. It is a way of engaging. Even if it does not explicitly address the most salient political events of our time, that doesn't mean art does not matter. This way of thinking is why arts funding and programs are so often the first to be cut. Yet these are the mediums through which we can learn and practice empathy, compassion, and love. It is also a way we can express anger, fear, and despair while still adding to the beauty and joy of the world. Not much else can be so ugly and yet so beautiful.