When the population density suddenly spiked before TOPS' set at the Biltmore on February 27, I worried that people had been drawn in by a cheap ticket on a Friday night. But as the evening unfolded, it became clear that TOPS has established a devoted fan-base across the country from their Montreal home. 
Earlier, when the crowd was still sparse, opener Dada Plan performed a short set showcasing their October release A Dada Plan is Free. Dada Plan have been called psych-rock, art-rock, and even dystopian-rock, but ultimately these Vancouver-based artists are mad scientists experimenting with sound. This night, their four-piece act consisted of a conga drum, a synthesizer, a cello, and a lefty guitar. 
Dressed like frequenters of a beatnik cafe, Dada Plan layered murmured vocals overtop of their unique and varied instruments. Maybe it was the lack of their signature saxophone, but their live performance substantially differed from their studio recordings. They closed their set with an extensive jam session and left the crowd to simmer and anticipate the appearance of TOPS.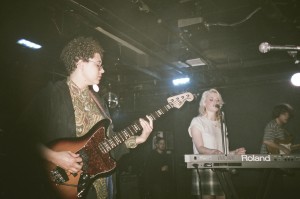 Finally, TOPS emerged from behind the Biltmore's thick black curtain to a concentration of concertgoers eager to listen. At centre stage, Jane Penny thanked the crowd for coming out and eased into the set. The swaying was immediate.
Bass player Madeline Glowicki was absent, but her substitute provided the deep bass notes that serve as "tender opposites" to Penny's feminine pop vocals. In a similar fashion, David Carriere's guiding guitar riffs steer Jane Penny's dreamy, light keyboard melodies. The result is a band harmony that unites the aural spectrum, inviting listeners to sway slowly or even mosh, if and when they see fit. 
A few songs in, Penny dedicated "Outside" to her mother. Combined with the disco balls and cool-toned lights, the moment felt just like a '90s prom. Throughout the set, even when the tempo picked up, the band always returned to leisurely melodies that kept the mood mellow and content.
Together, the act held an expert control over the experience they created. But perhaps even more impressive were the individual performances themselves. When I tuned in to the discrete components of their set, it was evident that each member was a master of his or her instrument — and Penny's vocals seduced the crowd into seeing the entire act as one unified, stunning creation.
TOPS closed their main set with "Way to be Loved," which was an instant crowd-raiser. Fans belted out every word and some even found a way, inexplicably, to mosh.
Carriere returned to the stage alone, informing us that he would perform the encore himself. The band quickly reemerged and performed two more songs to an audience willing to listen all night.
Penny's lyrics were beyond her years of experience with love and heartache, but they portrayed an authenticity that urged you to relate. Even if you haven't felt heartbreak, Penny made you wish you had.