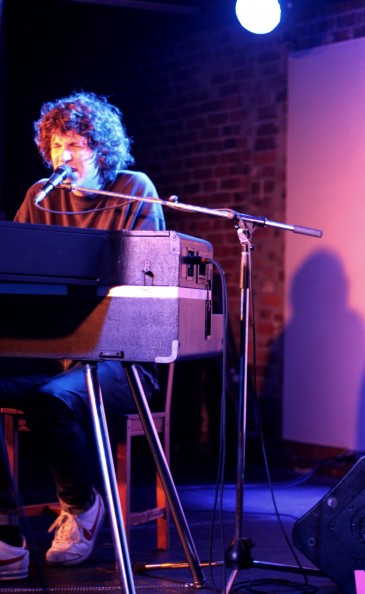 It's funny how an artist's greatest detractors have a tendency to be those who helped them get there in the first place — and it's no secret a hometown show can bring them out in numbers. But, no, not at the Electric Owl on March 30, where I joined a sold-out crowd eager to soak in the piano pop of LA-via-North-Vancouverite Tobias Jesso Jr.
The dimly lit Owl was full of supportive family and friends, some clad in Goon sweaters and looking like they didn't get out often, while others sipped their beers with an oblivious grin, just proud to be in attendance. No "I'm with the band" smirks or "We used to share a jam space" babble from these folks. No, these were fans, in the oldest sense of the word. 
Quickly after arriving, Okay Kaya took the stage. A recent transplant from Norway to NYC, she began a set dotted with introspective uncertainties and coyly delivered anecdotes. As it progressed into poignantly plucked electro-acoustic territory, Okay Kaya's soft vocals were no match for the chattering crowd. Even when the six-foot seven-inches Jesso Jr. got up and made a plea for silence, the crowd's impatience prevailed and the Norwegian songwriter scuttled off stage not long after.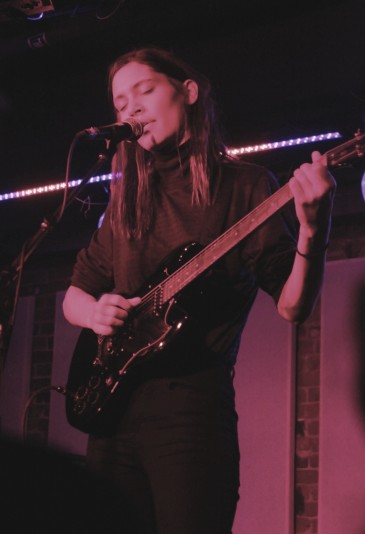 Quick to take a seat, Tobias Jesso Jr. lurched over the piano he had lugged to the Electric Owl from his parents' North Van house just for the show. If the hesitation of "Hollywood" and "Leaving Los Angeles" weren't obvious enough, the roots of close-knit community runs deep through Jesso Jr.'s songwriting, and, just like on his recent full-length Goon, he made no attempt to hide his sentimentalities on this night. And it made his performance all the more humanizing. 
Sure he ran through hits like "Hollywood" and "True Love" and even picked up a guitar to pluck out "The Wait" and "Tell The Truth." But save the few crowd members who sung along to the choruses they knew — sometimes with a priest's conviction and at others with the uncertainty of punch-drunk teenagers — all eyes were on the balladeer, who was just up there having fun and remembering how comfortable it felt to be at home.
Things never got morose or sappy though. No, he played it clean through and by the time he was bold enough to run through a cover of Ray Charles' "Georgia On My Mind," everyone had gotten pretty cozy. With modest piano skills and unsharpened vocals, Tobias Jesso Jr. continued to give us a perfect blend of everything that shouldn't work but did — proving that the whole can still be greater than the sum of its parts as he went on to tease an encore of "Without You" and "How Could You Babe" out of the crowd.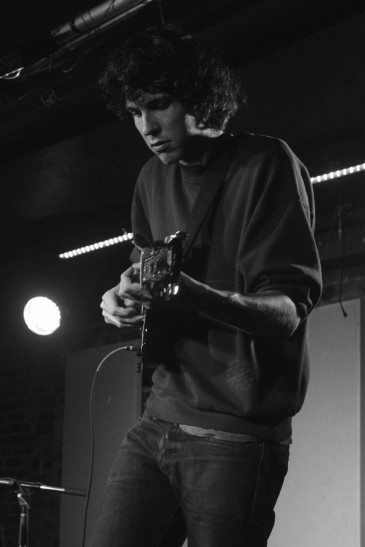 Though it would have been easy to let Tobias Jesso Jr. conjure memories of '70s AM radio pop, he instead gave us precisely what the Vancouver indie scene has needed: an unadulterated, unhurried and gut-wrenching, oh-so-casually sung in plain language man at his piano — back to the basics for the masses who just need plain old love songs to swoon and mourn to on a rainy day where over-the-top production was left to the wayside in favour of the raw, unfettered acoustic sounds poignant enough to amplify the silence of a quietly transfixed room on a Monday night.
Many of us were ever aware of the tide's ebb before entering back into the drizzling night to remember our troubles, but for a brief moment — no more than a couple minutes if you were distracted by a drink; for the rest: an hour at best — the performance had been liberating. But damn, if it wasn't more than just a dream.