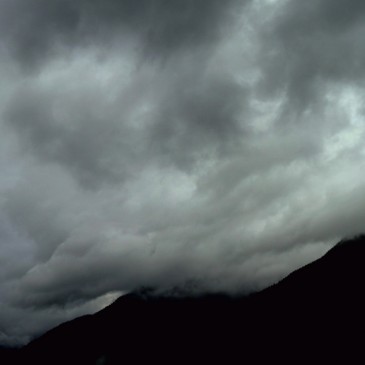 Vancouver's Amir Abbey is best understood in the painstaking devotion he takes in crafting the dense and meticulously constructed records of Secret Pyramid. His rare local performances are a fantastic look into Abbey's world of micro-focused drone arrays and fuzzed-out ambient floods, but even these are only slight preparation for the all-encompassing blocks of sound that Secret Pyramid spends so much time constructing for recordings.
The Silent March, originally issued as a cassette by Nice-Up International in 2011, is finally seeing a re-pressing by veteran weird-music record label, Students of Decay. Because of Secret Pyramid's minimal online presence, any new excuse to snap up physical copies of his releases is something to be cherished, and The Silent March is absolutely worthy of being reissued. The album marries the patience and clarity of Stars of the Lid with the sonorous thunder of a Sunn O))) doom jam — although the seven tracks are anything but metal, The Silent March is produced with a similar penchant for noise, feedback, and inescapable fuzz.
Deep, sweeping chords and sounds undulate, at times swirling and pulsing, in mournful minor keys on both sides of The Silent March. Although the themes that dance around the edges of the album aren't happy ones, the completely overwhelming chaos inside each song remains up to the listener to interpret. This is about as good as drone music gets.