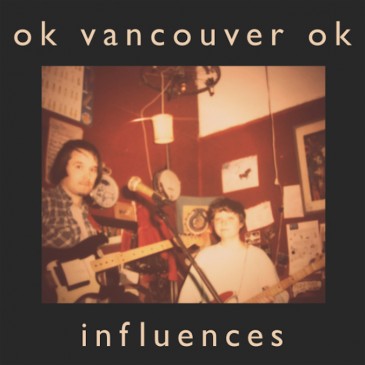 The multi-faceted local group Ok Vancouver Ok is back with their ninth full-length release, Influences. Instrumentally, the album borrows sounds from bands that have inspired them in the past and lyrically builds on their own past two releases, Escape the Common People and Food Shelter Water. Influences features an eclectic collection of artists, including special performances by Ashley Eriksson and Eli Moore. Like much of their previously released music, Influences continues to explore themes of anti-capitalism, sustainability, and freedom.
Ok Vancouver Ok has produced a poetic and thought-provoking album in hopes of positively inspiring others with their forthright lyrics. While Influences lacks a standout track, this appears deliberate. The album, in its entirety, is a dreamy masterpiece. It takes form after a complete listen, with the bass and guitar ebbing and flowing from song-to-song, while up-tempo beats from the drums provide an overall unique mood. Ok Vancouver Ok has succeeded in producing a smooth sound filled with hazy, raw individuality. The lyrics in Influences reference diverse and broad subjects such as family and life, working well with lead singer Jeff Johnson's distinct and brilliant vocals.

Influences was written shortly after Johnson and Laura House (drums) wrapped up a six-month long tour. While they were on tour, their son Henry was born, which inspired the song "Collection Of Changes." The first and last song on the album ("Building A Way" and "Changes") lyrically reflects before and after having Henry and how he has changed their lives.
Influences is a poetic and pleasurable listen; a warm indie-pop soundtrack for a night in with family and friends. The blurred tones and crisp guitar strums make for a unique listening experience that takes you into Johnson's world of inspiration and creativity.