In recent memory, I can't recall a more pronounced winter musical hibernation than the one that occurred between this last December and January. Whatever the reason, more than one shell was being crawled out of at the Biltmore, where a stellar lineup of musicians took to the stage in support of Sprïng.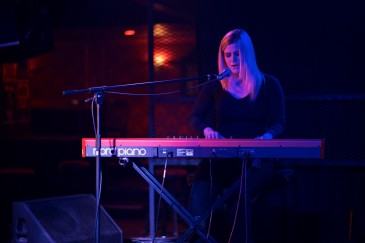 It's not often that Selina Koop — a massively talented musician in her own right—isn't flanked by her supporting band, the Blank. A rare treat, rather than an unfortunate strip-down, Koop's solo set highlighted her classical training on piano and a penchant for minor keys. As with her band project, Selina Koop's haunting voice, like a silk kerchief draped over cigarette smoke, is what stayed swirling in the air long after her set was over.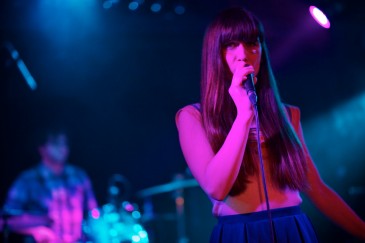 In contrast, Synthcake's sugar-coated vocals, carnival bass synths, and bohemian drumming were anything but silky smooth. As my first Synthcake experience, I wasn't quite sure what to expect, even if the name Portishead was being thrown around before their set.
I was pleasantly surprised to find that, even if the quartet took a while to get into the swing of their performance, the end result was a bombastic and thoroughly enjoyable half-hour. What the electronic circus band do, and do very well, is create an atmosphere of energy ripe for the taking, and each of their well-executed breakdowns were so audibly jarring the crowd couldn't help but find themselves grinning.
Colin Cowan isn't exactly unknown in the music community — odds are, even if you don't know his name, you can't list five bands without naming something he's played in. Along with the Elastic Stars, his psychedelic folk-rock outfit is just different enough from the plethora of other projects he has on the go to be interesting.
The band's send-off, a song about protesters and their lack of follow-through, was a particularly cheeky, and extraordinarily well-executed, psych rock yowler. The only dimmer to an otherwise slick performance was by way of Cowan's borrowed amplifier, which gave his guitar a nasty and indistinct grimace.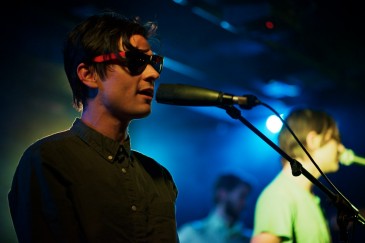 Sprïng is not SSRIs, but it's likely that almost everyone who ever got a kick out of seeing that spastic post-hardcore outfit tear up tiny venues with jazzy, Deerhoof-inspired noise will find equal solace in Sprïng. Made up of ex-SSRIs members Joseph Hirabayashi, Elliot Langford, Kevin Romain, and Ridley Bishop, the new band is a culmination of their many side-projects, including Aunts & Uncles and Thee Ahs. This is a very good thing.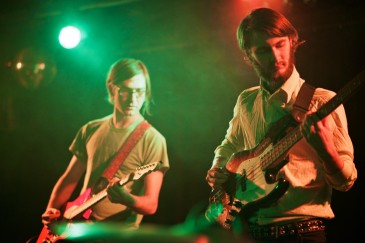 Their set, ripe with acoustic finger-picking as well as ridiculous jazz explosions, was as energetic as it was mesmerizing — Hirabayashi has a very distinct but utterly exotic way of writing songs that no other band even comes close to touching. The jazz nerds dug into Romaine's creative drumming and everyone else danced around at every breakdown. Sprïng is not SSRIs, even if a little part of me wanted them to be, but what they are is even better.