Amidst the sluices of rainwater displaced by careening automobiles and a sky heavy with cloudburst, a small crowd assembled at the Media Club on February 11, hoping for a respite from winter's wet malaise.
Greeting the sodden scattering of music admirers was Vancouver's Joyce Island (the nom de plume of Lisa Joyce), a personable and pleasant singer/songwriter whose pretty guitar playing may not be technically flashy, but whose very fine form and shiny smile were endemic. Joyce's tasteful, almost twee, set of songs seemed obsessed with both death and boys while a graceful cover of Waylon Jennings' "Dreaming My Dreams With You," made all in attendance forget about the clammy grip of wintertime.
Now I've been to shows before that have been sparsely attended (Scout Niblett at the same venue a handful of years back drew a similar slight number), and a Tuesday night during a deluge after a long weekend can take a tariff, to be sure, but hot on the heels of just dropped chef d'oeuvre Held in Splendor, I was still shocked at the slender assembly. That said, we few were overjoyed to share so intimate a space with East Coast (by way of Massachusetts) indie-pop paramours, Quilt.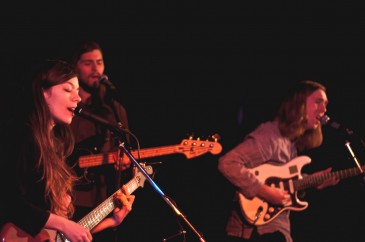 A Laurel Canyon country-rock vibe bubbled up out of "Mary Mountain" as Quilt, a four-piece of likable longhairs with poor posture but engaging presence, played with passion and snap, as if it were a sold-out show.
Lead singer Anna Fox Rochinski's banter was bullet-proof and she came across well-mannered and affable, but mostly she providing an otherworldly glow with twang-pop gloss and psychedelia glisten. Her's and lead guitar Shane Butler's harmonies altered Quilt's chemical makeup more than once, and the occasional British accent inclusion to their already wistful psych-folk variant added undeterred delight.
Allowing room for spacey freakouts ("Saturday Bride" is a microdot version of the Mama & the Papas), reflective reservations ("Eye of Pearl" has a Mazzy Star meditation to it), or just a rustic rock 'n' roll reverie ("Tired & Buttered" has a Byrds-like boogie to it that's breathtaking). At times touching on that Elephant 6 aesthetic, a dreamy depiction of psychedelic pop that's rooted in the present but with hearts and flowers for the past.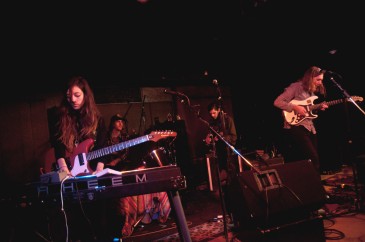 As Rochinski's rainless and sunshiny voice belted out "Cowboys in the Void" from their 2011 self-titled debut, the artistry and allure on stage was unmistakable. "There's a real clubhouse vibe in the room right now," she teased to applause and shouts of approval before launching into their latest single, "Tie Up the Tides," which may hold the honour for most confident and complex pop single since Dirty Projectors' "Stillness is the Move" (and with angelic harmonies all it's own as well).
It's no doubt that Quilt's star will continue to ascend and larger venues will follow; for the time being, I'm fine being one of the privileged few who shared a wonderful night with these exhilarating up-and-comers.