At once harrowing and stolid, a three-piece collaborative project comprised of Vancouver experimental noise enthusiasts, Nausea, Rusalka, and Worker steeped Thursday's scene in oppressive salt and pepper sound. The Biltmore Cabaret, dimly lit and appearing to be under construction, was further darkened by the crackle of brutalist static.
Looping pedals, sound panels, and a screwdriver-shaped tool, were provoked into prolonged rebellion. As patterns ridged, abrasively they were washed over. The trio commanded an acreage of unadorned clatter, without melody to catch.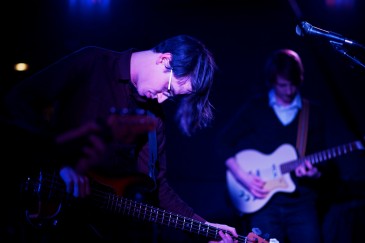 The next band was a punk four-piece. Self-indicted "Cowards," in their first song they built a platform of sound, momentarily bracketed by guitar riffs. During their set the lead singer's lyrics fluxed between berating and booming. There were glimpses of more accessible Pixies grunge stylings and alternatively, metal charged chanting. Likewise, song pacing swung in pendulum. The "war" within their band name was strategic, and it played out in an array of punk progressions.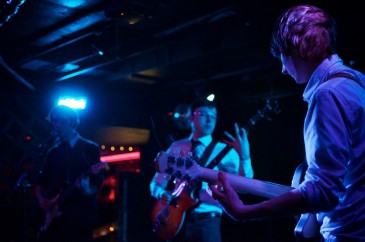 Quite dichotomously coined, Peace played third. Guitar notes moved forward with steady steps, shaking off much (but not all) of the past set's indeterminate reverb. Individual riffs were knocked out, occasionally bumping against one another. Sometimes brooding, Peace's punk tales continually unfolded with earnest conviction. The movement of their songs offered, without instructing, as approachable pop structures lay casually behind the fuzz.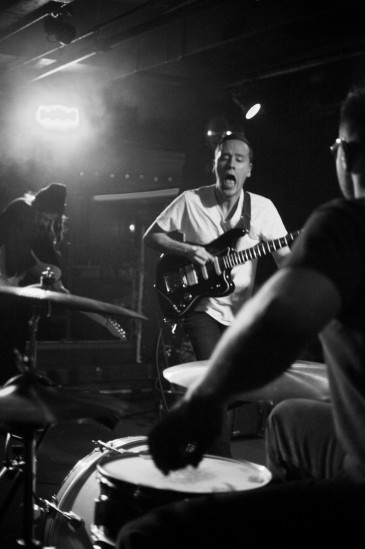 The headliners, with a playful preposition/noun namesake took to the stage in promotion of their debut seven-track album release, The Apple in the Pig's Mouth. Failing's introduction embraced the audience with mass ambience. Imitating no natural landscape, thick industrial reverb poured out like cement.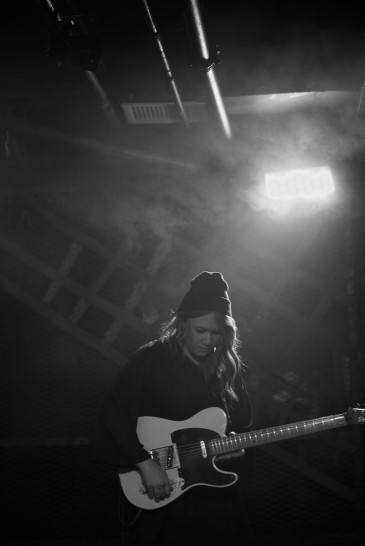 Shaunn Watt (guitar, lead vocals) strummed his guitar frantically, seemingly, to thrust noise out at onlookers. Watt's fevered voice bellowed out demands. Where his words hit, craters were left. Kneeling down in determination, Lindsay Hampton (guitar) quickly filled them with distortion while Will Kendrick (drums) pounded out any spaces left unscathed.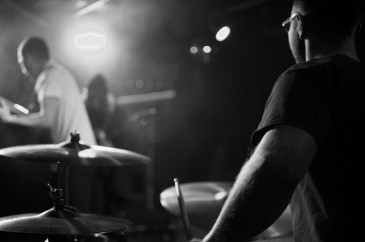 There was a particular cadence to Watt's words that seemed slightly stretched. Far from artificial, his distressed vocals continually found reinforcing context alongside Hampton's shadowy scenery.
With the guidance of Kendrick's linear beats, Failing's sullen songs were lightened by rhythmic stability. The engaging structure of their sound, (wherein a message always hid beneath the murk), allowed Failing to build badlands. Their eroding notes wore away an arid, but beautifully melodic terrain.