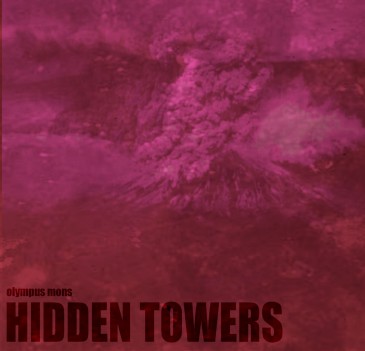 It isn't a wild leap of the imagination to expect expansive, spaced-out riffs of a psychedelic nature from an album named after a gigantic volcano on Mars. The debut album from Vancouver's own prog-rock power-trio Hidden Towers delivers just that in fine form. One of the earliest releases on the new Defiled Under Music label, Olympus Mons is a seven track journey through the complexities of life and death carried on the wings of post-grunge riffs and solos to spare.

With influences (stated on the band's bio) ranging from "bigger than life classic metal,
'70s jazz fusion, space-rock, and post-hardcore," there are myriad styles at work throughout the album with several time changes and movements occurring in each song. "Gainsford, AB (Cup of Blood)" — a song whose namesake references core members' Chris Cantrell and Ben Holland's prairie roots — has a slanky, almost country riff that moves into a chugging stomper; album closer "Drowning in the Baptismal Font" drifts calmly over an Incubus-sounding intro before abruptly switching into a System of a Down tantrum. Hidden Towers employ dynamics like this all over Olympus Mons.
This being the group's first outing since their debut EP Great Conjunctions — a result of their 2009 SHiNDiG victory — it also sees the group moving away from the instrumental format that won them that competition in the first place.
Although it has to be said that Cantrell is without a doubt an extremely talented musician, the one detraction from the album is his nasal, somewhat whiny voice. Perhaps it would have been better to let his guitar do the talking, but then again people say the same thing about Geddy Lee; and Rush just landed in the Rock and Roll Hall of Fame. Either way, if ambitious prog-rock is your forté, Olympus Mons could be the journey you've been waiting to take.