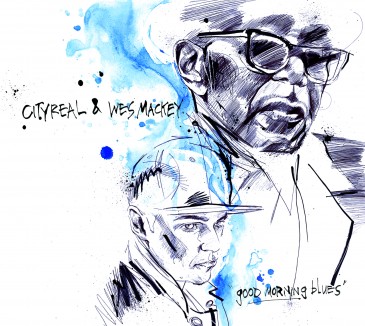 Normally, I'd call a modern hip-hop artist teaming up with an old-time musical legend a money grab or a vain attempt at prolonging each respective party's time in the spotlight, but Good Morning Blues is, thankfully, neither. Despite being billed as a "fusion side project," the 10-track record doesn't come off as anything other than a main effort, and minus my initial reservations at pairing Vancouver local Cityreal (a.k.a. Remi Huot) with the mythical west coast transplant Wes Mackey (who's been playing with, well, everyone over the past 50 years), there's an obviously shared joy between the two artists in exploring the roots of their influences.

Good Morning Blues isn't a subtle album — it's a mash-up of upbeat rap and the kind of dirty, 1920s-era southern blues that Jack White likes to preach on about. Right from the opening notes (sung by Mackey), the whole thing leaks with a moth-eaten, tube-radio recording feel that pops, probably due to FACTOR funding, with authenticity. Warm Hammond B-3 interludes give way to the best kind of fuzzy, tweed-suit 12-bar guitar licks, and vintage vocals courtesy of Mackey make an interesting, and polarizing, contrast to Cityreal's butter-smooth but heavy-handed lyrical delivery.
Good Morning Blues will make the most sense to people like Cityreal, who has a real interest both in '90s hip-hop and scratchy pre-war blues. The eccentricities of both genres, new and old, creep into the record and almost serve to make Good Morning Blues a narrow-focused affair, but to dismiss this album as a simple homage to bygone eras would be a mistake — it's more like a celebration.