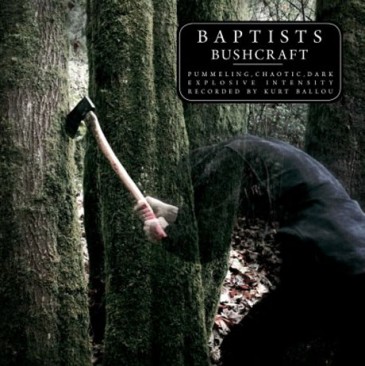 It's been awhile since Baptists' first recording emerged, in the form of their eponymous seven-inch, but the wait has definitely been worth it. Picking up where they left off two years ago, the Vancouver four-piece continue to create a savage amalgam of punk and metal. But, where metalcore mostly comes across as sanitised packaged rebellion, Baptists are raw and genuinely vicious. Thankfully, they also sound nothing like that most creatively bereft of genres, despite sharking a musical genealogy.

While the bulk of Bushcraft is made up of short, sharp bursts of raging hardcore, such as the frenetic rush of opener "Betterment," what makes the record work so well as a whole is when the band slows things down a bit. The more measured tempo of "Still Melt" recalls the malevolent creep of the Jesus Lizard, while "Soiled Roots" sees the band incorporating elements of sludge into their sound, resulting in the album's standout track.
Ably recorded by Kurt Ballou, who's been behind some of the best metal releases of the past few years (Black Cobra, High On Fire, Torche), he faultlessly captures the band's ragged zeal. As with Baptists' debut single, Bushcraft is being released through the ever awesome Southern Lord; certainly a fitting home for this excellent contribution to the Vancouver punk and metal canon.