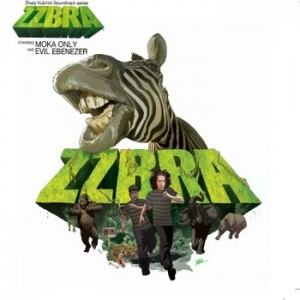 ZZBRA: The Original Motion Picture Soundtrack is the latest conceptual release from Vancouver rap duo Moka Only and Evil Ebenezer. The inside cover of the album contains a note from the "director" (producer) of ZZBRA, Stuey Kubrick telling how he dumped the film deep into the jungle following its completion. This tongue-and-cheek, playful attitude — aided by the goofy sleeve artwork portraying the two rappers running from animated jungle creatures — pervades the music itself. This works towards the group's detriment; I had difficulty taking anything on the record seriously enough, and could not respect it as a genuine hip-hop effort.

The mood is set quickly in the "Intro," a medley of sounds interspersed with meta comments such as "a good intro needs…" so and so. "Green," the first real song, whose title seems to hint at the two primary inspirations of hip-hop – money and marijuana – is instead taken in the direction of listing various eclectic green objects such as the jungle or extra-terrestrials, with only one reference to "ganja" and none to money.
"Raisins" promotes some sort of inside joke which the listener is unfortunately not let in on. The repetitive chorus: "Did you get the 'effing raisins I sent you?" leaves the listener frustrated with the rappers' insistent stupidity rather than laughing along with the joke. These factors combine to undermine several other tracks on the album which aren't so blatantly absurd, such as "Number One," a song about losing a girl.
The rest of the album flows by without much standing apart. It was challenging to remain focused upon subtle differences, unique rhymes or beats.
Instead of being comic and clever, the album is amateurish and infantile at points. The ability is nascent, but before it will be able to develop, this duo needs to become something genuine rather than an act.