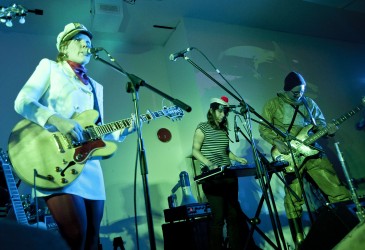 Vancouver really likes "cute". While adjectives like "beautiful", "ravishing" and "foxy" might get thrown back into the cityscape dictionary as unusable, the nonthreatening "cute" was the fourth word out of everyone's mouth at Interurban on this particular Friday night. As the sizable gallery approached capacity, I got pretty sick of the idea of describing any music with such a throwaway term, but then, cue the Kingsgate Chorus.

To call the Kingsgate Chorus a handful would be an understatement; somehow, leader Jenny Ritter managed to cram herself, an acoustic guitar, and 30 singers onto the stage, and I felt a bit like I was in kindergarten again watching the choir march single-file into position. This was no elementary school affair though, and the choir busted out easy covers of Talking Heads, Leonard Cohen, and crowd-favorite Pixies ("Where Is My Mind" with grinning girls singing the guitar lead? Yes please). The group was anything but stationary, mingling on-stage like the performance was more party than song–and to a large extent, that's what it was. Unfortunately, the crowd was never respectful (i.e., quiet) enough to get the full effect from the choir, but such is a weekend night.
Aunts & Uncles did a phenomenal job of taking the optimism and energy of the previous set and churning it into something meticulous, artistic and erratic. Frontman Joseph Hirabayashi (SSRIs) has a very distinctive songwriting style that warrants attention when removed from his other project's thrashy surroundings; combined with Adrienne LaBelle's violin skills (and the occasional, regrettable inclusion of a "cute" ukelele) it's hard to narrow down what makes Aunts & Uncles tick, or just why they're so much fun to listen to.
They ended their set backed by the Kingsgate Chorus (and how all 30 of them fit on stage again is beyond me). Hirabayashi expressed heartfelt appreciation for having so many people be eager to learn his song "Fire Hydrants" for the performance, and his sincerity added depth to their collaborative finale.
Wintermitts are an interesting animal. Their recorded material, including the LP Océans which they released at the show, is the kind of well-crafted orchestral pop that fits perfectly in the background of bicycle rides and seawall adventures. Live, having Wintermitts at the front of the show instead of painting the scene for something more grandeur, was a mixed bag. The band, dressed in mariner attire replete with a deep-sea-diving bassist and the ensemble decked in sailors' hats, seemed contrived and gawky, even when it was obvious the group was enjoying the dress-up routine.
Constant and seamless instrument transitions kept things interesting, as a seemingly endless number of new instruments, including an accordion, were brought into the mix. Even though I wasn't enamoured with some of their antics, like frontwoman Lise Monique Oakley asking for "six strong men" to help her crowd-surf at the end of their set, there's no doubt that Wintermitts put a lot of effort into making their performance unique. I could have skipped the contrived encore "Birds" (although it gave another chance for the Kingsgate Chorus to chime in from the front of the crowd), but it was a thoroughly cute way to end a thoroughly cute evening.