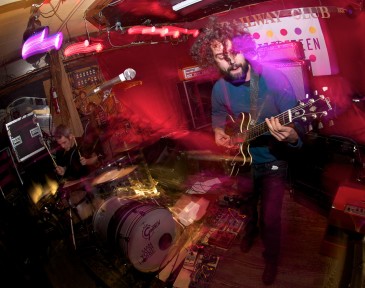 Sizzle Teen Records' label launch show at the Railway was a bit like stepping into a poor man's time machine: while there were a few times during the night that I felt the tugging of 2012, for the most part I spent the evening snug in the nostalgia of the '90s, listening to bands that sounded like as much a part of my childhood as Pokémon and Saved By The Bell.

We Are Gaze opened the festivities with a solid round of pop-punk songs that would have fit into MTV's music rotation right after Blink-182. The trio were pretty radio friendly, rooted firmly in a triangle pattern on stage and getting progressively fuzzier as the set went on. It's hard not to draw direct comparisons to the bands of my youth, and frontman Robert Watt's vocal delivery has a lot of Billie Joe Armstrong (of Green Day for those who were too old/too young for Dookie) riding behind it, even if the lyrics were more about girls than getting high.
Keeping with the "music-I-listened-to-when-I-was-14" trend, second act Previous Tenants played straight-up skate-punk with exceptional energy behind their guitarist Joel Tong, who pulled off mid-breakdown scissor-kicks with aplomb. Trading vocal duties with Jesse Gander on bass, songs bounced between anthemic, full-steam-ahead punk tributes and chaotic, treble-heavy thrash tunes. Previous Tenants played what could be described as a messy set as, in stark contrast to the openers, the three musicians were covered in sweat (and flinging it into the audience, on occasion) by the end of their session.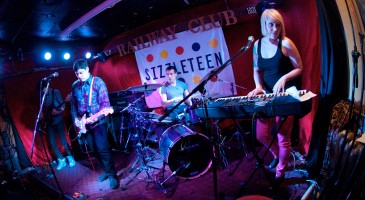 Diamond Dancer are a complicated band to write about. Although self-described as dream pop, I saw a lot more in common with fledgling emo bands Rites Of Spring and Sunny Day Real Estate, if those groups had incorporated a female keyboardist and one of the tightest drummers I've ever seen. Fairly straight-forward melodic verse/chorus combinations were broken up with long instrumental flourishes that demonstrated a shoegaze/post-rock musical proficiency, and it was these breakdowns that really set Diamond Dancer apart.
The night capped off with an intimate set by Man Your Horse — if you want to call setting up on the floor, inviting the crowd as close as possible, then smashing their eardrums in with pummeling volume "intimate". Julian Marrs is an exceptional guitarist, and finding the drummer willing to keep pace with his mathy, time-signature-destroying riffs in Scott Petrie must have been a feat, especially in "So Bronze It's Gold". The dynamic duo played with massive grins on their faces, and even as those at the front ogled the crazy technical skills of the two, the entire crowd was smiling just as wide and trying to keep time to their loop-based madness. Although Man Your Horse didn't exactly keep with the 90s theme, they ended the nostalgic night in style.