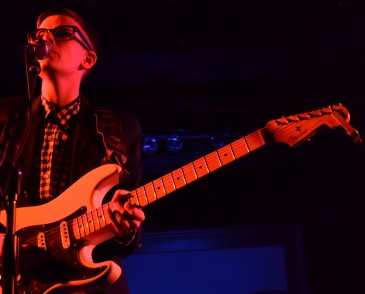 It's surprising that even on a cold, Wednesday evening, this many people have gathered inside the moody, dim-lit Biltmore Cabaret. Up first, replacing Tender Forever from Olympia who were slated to open, is Tanya Davis from Halifax. It's impossible not to make the Cat Power comparison, especially with Davis' shy, quiet demeanor and sugary smooth voice. She makes eye contact with the crowd and speaks to us between songs, despite the fact that the room is buzzing with loud chatter. The dance floor is empty and a semi-circle of candlelit tables surround her, which makes this set seem like a beatnik convention and I'm surprised when people don't clap in unison after each song ends.

Vancouver's E.S.L. don't play often, but when they do, they can fill venues with loyal followers. Tonight is no exception. The beatniks storm the stage, abandoning conversations and the crowd are now greeted by four very talented women who can play their instruments so well, they almost seem like extra appendages. E.S.L.'s set is a multi-genre experience spanning jazz, ska (maybe just because of the trumpet) and hip-hop. The crowd loses their shit when cellist Cris Derksen jumps up from her beastly instrument to front a cover of the Beastie Boys' "Girls". The band then keeps with the pace and breaks into a new song I can only assume is called "Super Bass".
The crowd soaks it in and tries to keep up, especially with the die-hards in the middle who are bouncing around and smiling like Cheshire cats on speed. Looking around, it seems like everyone knows each other. If you aren't in the loop, it's a little like being at a slumber party you weren't invited to.
Rae Spoon takes the stage around 11:30 p.m. and graces us with humble, appreciative banter as well as sharp talent that has a lot of the room speechless and most of the earlier chatter erased. People crowd around the stage for Spoon's much anticipated set. The backing tracks played behind Spoon's reverb-soaked guitar and luscious voice bring life to the evening, despite their inanimate presence. Spoon stops one early track prematurely as it plays out and says, simply, "Fuck that. It's over." Everyone cheers and Spoon takes their well-earned place as one of Canada's most adored indie musicians.
This party is all about 2012's I Can't Keep All Of Our Secrets, which is Spoon's latest record and soon to be their most acclaimed. Stepping into some unfamiliar territory, Spoon explains some of the new sounds on stage. "This song has a little bit of Leonard Cohen in it—at least in its production—and I'm pretty excited about that." Spoon goes on to describe a song written with Berlin's Alexandre Decoupigny as a "German folk song" and warns us of another; "Don't get scared. I sound possessed in this one."
Sometimes sounding like Talking Heads, other times like Cocteau Twins, Spoon jumps from one catchy song to another. At the end of the set, we're told that the latest album was inspired by Girls Rock Camp. Spoon laughs and says, at GRC, "You just do whatever the eff you want. So now I'm fucking up solos all over Canada."