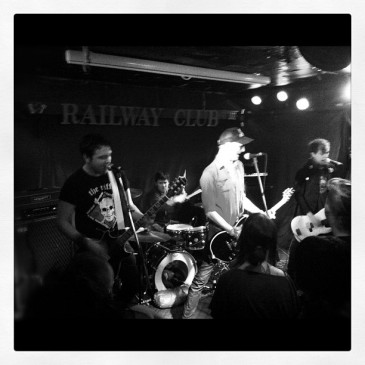 It was the conclusion to a ridiculously sunny winter's Saturday at one of Vancouver's oldest venues, the Railway Club. It felt like summer again, packed to gills with a pile of people ready to drown their work week in noise and draft beer. What better conditions for a sweaty night of punk rock?

Crystal Swells hit the stage around ten with the three-man team doing a brief but awesome set of catchy, surf-infused post-punk. I was instantly hooked by their high-energy show, which had them cracking jokes and clearly having a good time. Aside from a few technical difficulties, the solid set finished with guitarist/vocalist Nick Price playing an outro whilst being hoisted up by the crowd and carried around on a friend's shoulders a la Ozzy and Randy Rhoads. Tons of fun and a great warm up.
Real Problems were up next, delivering their greaser-meets-punk brand of rock 'n' roll and generating the first mosh pit of the night. They pummeled through a set sounding like Supersuckers-meets-Nashville Pussy, with the occasional breakdown riff and loads of wah pedal. It was also a bit of a red letter day for the band as they announced it was to be the last show for drummer Jonny Two Sticks. Thankfully, it's not the last for the band.
Up next were the Jolts who did not disappoint in their Ramones/Hellacopters-flavoured, balls to the wall rock. Turning up the heat in the already hot as hell bar, they ripped through tracks from last year's critically praised 8%, including "I Wanna Dig" and "The Dabbler," as well as older tracks like "Gimmie Gasoline" and "The Bar Again." They also threw in a cover of the Joneses' "Pill Box" and finished the set with a rollicking sing along of the Stones' "It's Only Rock 'n' Roll (But I Like It)". It was a really tight set by a Vancouver staple with swagger and style to spare.
After a short breather, Jolts members Joshy Atomic and Matt Snakes went back onstage to play with Greenback High bandmates Beardo (of Vicious Cycles) and former D.O.A. drummer Floor Tom Jones. Despite playing to a smaller crowd, the pop-punk supergroup kept things rocking. Influences ranged from Against Me! to the Ramones to Stiff Little Fingers (due in part to the fact that there is no discernible frontman and all members share vocal duties), while always maintaining a kind of '90s alt-pop groove. Their lone dedication of the night ("Bombs Away") was made out to Stephen Harper. At one point I saw two girls having a full-on makeout session before also noticing a couple almost boning near the table behind me. It was a hot night in the city for sure. Thank God, or more appropriately the devil, for rock 'n' roll.