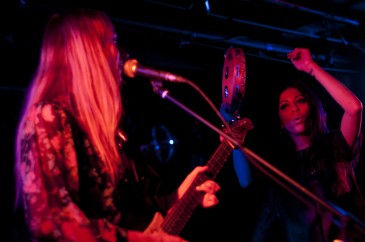 It may have been a typical chilly and wet February night out for Vancouver, but inside the natty and nimble Biltmore basement, the mood was tender and welcoming for Chains of Love. Headlining a busy bill, and keenly aware of the buzz that's been building behind them for a year now, Chains and their musical playmates were poised to melt the winter tide.

Admittedly, my tardiness caused me to miss the first couple of acts—a shame as Slim Fathers made their live debut and Villa Kulla had previously left a lively impression on me in—I really had no one to blame but myself. But I arrived as the Lost Lovers Brigade claimed the stage and I was quickly smitten by the eclectic ensemble, who offered instant gratification. Normally a four-piece, and adding a violinist for a few numbers, their earthy post-rock-steeped-in-country zeal was playful and excited.
With a new LP, Little Skeletons, to hawk and with lead vocalist Elisha May Rembold channelling the grit of Buffy Sainte-Marie and Patsy Cline, the Lost Lovers Brigade are a band to keep a close watch on. Their songs of insomnia, heartbreak and shadows, occasionally in three-part harmonies (Rembold, joined by drummer Adrian Burrus and keyboardist Larissa Loyva), up the choral ante considerably. Closing their set with a shout out and dedication to Phil Spector, complete with a "Be My Baby" drum intro homage, the Brigade segued pitch-perfectly into Chains of Love's main attraction.
It's been exciting to watch Chains of Love grow, in a relatively short period of time, into one of the city's sans pareil performers. It wasn't that long ago that they made their live inauguration on the same stage they graced this night, and in the months since they haven't missed a move.
What's immediately apparent from this snappy six-piece is their flare for the dramatic. Vocalist Nathalia Pizzaro's arresting presence and stirring, red-hot vocals, were rife with tremor and sensitivity, and kept the band in motion. Chains of Love doesn't do anything in halves; they go all out, near-symphonic and full tilt for the duration. Any ink that's spilled on them invariably mentions the girl groups they carefully emulate; the Ronettes, the Chiffons, that whole marvellous milieu. Tracks like "Breaking My Heart" and "All the Time" certainly hold a strong Wrecking Crew tactility to them that's fully realized by the momentum behind their stage show. Playing songs mostly from their forthcoming release on Dine Alone Records, Strange Grey Days, the presence of Phil Spector loomed over much of their performance.
In a live context, seeing Pizzaro and guitarist/vocalist Rebecca Law Gray together, radiant and bewitching, with locks flowing to match their moving harmonies, it's easy to fall under their spell. Combined with Steve Ferreira's brash and buoyant drumming, it's a nostalgic throwback, sure, but not camp, and not the least bit pedestrian. There will always be a musical revival of some sort taking place, however, it would be a mistake to lump Chains of Love in with anything that's superseded or passé. This is one chain you'll be thrilled to be tethered to.