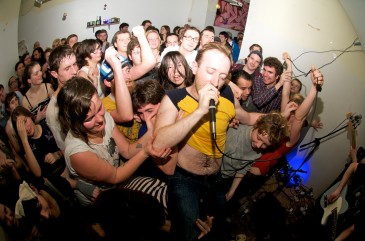 It seemed like everyone at the Zoo Zhop knew someone in upstarts Movieland. It wasn't that hard; the all-girl four-piece have their hands in a lot of honey pots, like Aunts & Uncles, Thee Ahs, Kidnap Kids! and Narwhal. Fast, catchy songs give nods to Plumtree and even a younger Sleater Kinney. Like so many bands at their first show, Movieland suffered from lack of confidence and it was only towards the end of their set that some louder, raunchier tracks (particularly "He Cares More If You Forget About Me", which is about one-night stands) got the girls moving with just enough riot grrrl bite.

Moving from cute, angry girls to lush pop, Jay Arner and his as-yet-untitled backing group knew how to draw a crowd—more people had been turned away at the door due to capacity as the band got ready to play. This time around, Arner was in front of a distinctly '60s affair, filled with jangly guitar hooks. While I was stranded behind several rows of heads, the group played a tight and mostly well-orchestrated set, replete with between-song banter as Arner and his keyboardist traded off guitar duties. It may be too much to ask for a second guitar, but it seemed a little silly trying to watch a six-string change hands on the small, crowded stage.
The quick break between sets let the crowd gulp down some fresh air outside the air-tight venue. I've got a confession: I'd never seen Apollo Ghosts before. Yes, I'd heard the buzz after every one of their sold out shows and I'd listened to Mount Benson when it was long-listed for the 2010 Polaris Prize, but fate had always conspired against me when it came to seeing them live.
Thankfully, despite being packed like sardines the crowd responded so enthusiastically to everything Apollo Ghosts did that their set, collaboratively, was nearly perfect. Frontman Adrian Teacher skillfully blended art-rock, punk and a little introspective pop into something beautiful and beautifully entertaining.
By far my favourite part of the show was the deceptively opaque lyrical content, simply delivered but full of poetic meaning, and the band blew my expectations out of the water without blowing my eardrums. Standout track "For What They Do, They Do" was lightning-quick but lovely, encased in shimmering guitar riffs and alternating smooth-sung and shouted verses. Even when songs threatened to spill over into lunacy, the band showed a marked level of restraint, choosing to end their set by enlisting the crowd to sing the chorus off a song on their upcoming LP instead of blasting everyone away in a wall of guitar rhythms. Suffice it to say, I won't be missing another Apollo Ghosts show, even if it's stuffed to the rafters.