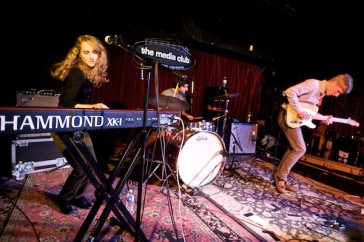 Marathon
If the typical description of Tennis―the married couple from Denver who sailed along the Eastern Seaboard for almost a year and then wrote an album's worth of songs about their journey―is awash in nautical metaphors, it's because that's the most natural way to talk about them. It's hard to hear about this band without also hearing their backstory, so as Patrick Riley and Alaina Moore filled the Media Club with breezy tunes, many in the audience must have had similar images in their minds: lapping waves, flapping sails and sunsets on an open sea. These mental images were picture-perfect, just like the performance, as the sway in Moore's vocals and the jangle in Riley's guitar made "Pigeon" achingly sweet and "Seafarer" a bouncy delight. Elsewhere, the Hammond organ bubbled up beneath the climbing melody of "Cape Dory" and the fuzzy chords of "Baltimore" as Moore crooned about life away from land.
If Tennis took us on a maritime sojourn, opener Air Waves settled for what amounted to a bland staycation. Their sunny-sounding indie pop was enjoyable but unremarkable; besides the ironically-titled standout "Humdrum," which sounded like a sedated version of Vancouver's Better Friends Than Lovers, there was little about them worth recalling, especially when compared to the wonderfully evocative headliner they were paired up with.
Tennis evoked more than all that nautical stuff, though. In Moore and Riley's attire, which can be described as pre-'80s, and in the "ooh ooh ooh's" and "sha na na's" sprinkled throughout the performance, the two brought to mind a more old-fashioned brand of love song, in which the only concern is the carefree feeling of spending time with someone special. There was an older couple down at stage right: he in a suit, she in a flowery summer dress and both of them dancing and embracing flamboyantly to the light-hearted romanticism that Tennis conveys. More than anyone else, they got it.