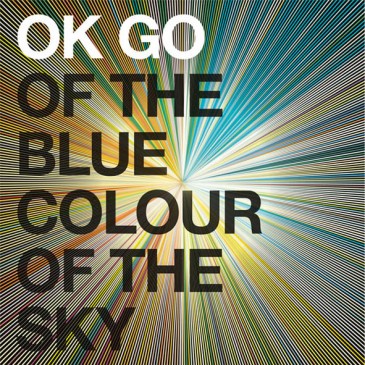 Chicago band OK Go, probably best known for their delightfully choreographed YouTube hit video for "Here it Goes Again" (the one with the treadmills), are back with a killer batch of power-pop songs on their new album. Throughout, they display a willingness to keep things interesting for the listener, with inventiveness both in terms of sounds and arrangement.
The band has a cheeky, quirky vibe that guides them towards witty lyrics and whatever instrumentation the song seems to demand. OK Go can do the big four-on-the-floor stompers with gang vocals, stadium reverb and fuzzy guitars (like "White Knuckles" and "This Too Shall Pass"), but they're also quite capable of integrating the synthetic textures of drum machines and programmed synths into a tension-building New Wave harmony.
The album seems to succeed the most, though, when the band really tries something new, as on mid-album piece "Before the Earth Was Round." With its insistent yet uniform rhythm, subtly accelerating tempo, dreamy synth layers and simply melodic vocoded fairy tale vocals, it's an interesting and quite pretty piece.
Of the Blue Colour of the Sky is the work of a band that enjoys the juxtaposition of such a song against a folky love song with strummed acoustic guitars, the sound of a running tape recorder and wistful lyrics. In many ways, it's the work of a band not walking a line between loud and quiet, organic and synthetic, sincere and tongue-in-cheek, but disregarding such a line's significance, drawing the best things from each region and having a great time doing so.