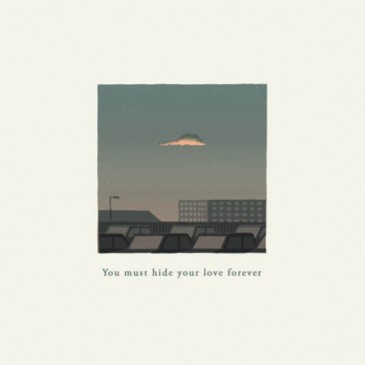 Holy moley, Bakers at Dawn's newest release is called You Must Hide Your Love Forever and this title is a wee hint for its sound. It's dark and grey, but also ultimately searching for something deeper, lovelier and more beautiful, like the light at the end of the tunnel or next summer's sunlight. Marcus Sjoland, the only member of Bakers at Dawn, lives in the city of Malmo, Sweden. This is at the southern tip of the country, and only receives up to seven hours of daylight in the middle of winter, inducing suspicion that Sjoland has Super Seasonal Affective Daylight Disorder, a.k.a Super SADD. His music sounds like he spends a lot of time in the dark, rummaging around in thoughts, producing sounds and questioning days throughout a season of night. A line like "Sometimes I get lonely at night with imaginary friends" is just a sample of this mood.
Although the music is dark, his voice is sultry and soft and really enjoyable. You know those moods when you are feeling grey? One of those days when all you want to do is be comforted by dreary music because it suits your mood? Well, if this is you, then this album is perfect. Soothing in those lone emotions, it keeps you on your toes, because despite its depressed vibe, it still makes the effort be a little weird. The acoustic guitar almost sounds like it is from a small Mexican village—as if you can hear maracas in some songs. But in other songs, there are electric guitar noises, electric keyboards, strange effects and experimental sounds. It crosses a fine line from earthy to spacey in songs like "Buckets" or "Opsigon."
If you like Neutral Milk Hotel, then you might like this, he listed them as one of his influences, amongst others like Leonard Cohen and the Melvins. The album consists of 15 short songs, each with its own little story or quirky sounds. You might as well check out his album for free at www.peppermillrecords.com/pm013.